Boys basketball falls to St. Thomas Aquinas
The team was defeated 62-40 in the first round of substate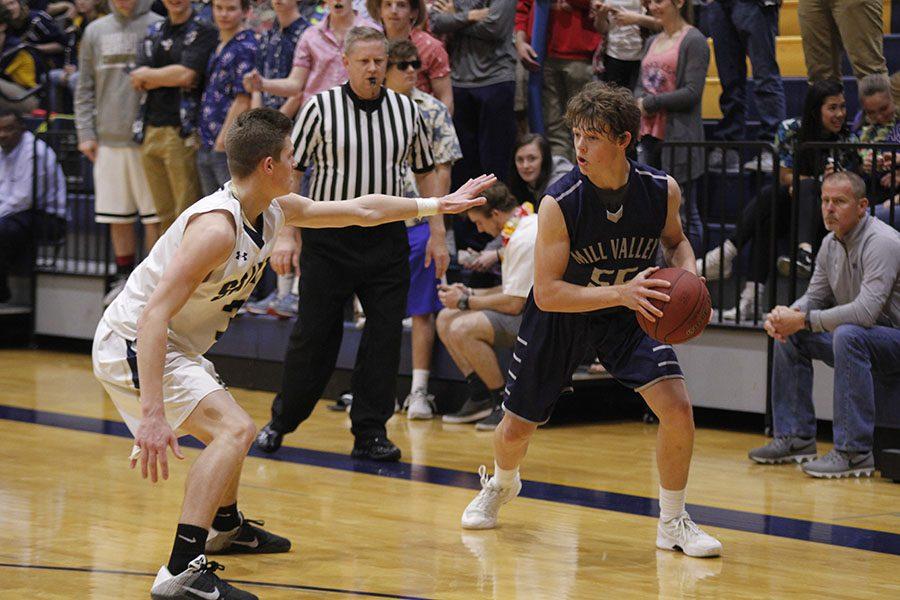 The boys basketball team lost in the first round of substate against St. Thomas Aquinas on Thursday, March 2.
Before the start of the game, sophomore Logan Talley notes that the team was prepared for it to be emotional, win or lose.
"We've built such a good friendship throughout the team and even though we don't play our best sometimes, it's going to be a lot different without [the seniors]," Talley said. "We knew this game could be the end of our journey, and that hit us hard."
The Jaguars were unable to get a stop against St. Thomas Aquinas' offense, and ended the first quarter trailing 20-8. This momentum shifted to the Jaguars during the second quarter, allowing the team to outscore the Saints 11-5. The first half ended with the Saints leading 25-19, with senior Blake Montgomery leading the Jaguars with 7 points. Montgomery links the shift in momentum to the team beginning to get comfortable.
"We started to hit some shots and calm down," Montgomery said. "Holding them to 5 points helped get the team going."
The third quarter became a back-and-forth battle, with momentum continuously switching. Montgomery hit two three-pointers in the third quarter, helping the team to keep the Saint's lead to 40-30. The Jaguars failed to keep up with the Saints, and ended the game with a final score of 62-40. Sophomore Tanner Moore describes the locker room after the game as filled with "mixed emotions."
"I got emotional because I knew that was my last game playing with this year's seniors and I'm going to miss them a lot," Moore said. "I can't imagine what the seniors are feeling. I know it must be hard because every player wants to end their senior year with a bang and it's tough to not win big games like that."
(Visited 43 times, 1 visits today)