Boys basketball falls to St. James 65-62
Jaguars lose Winter Homecoming game on Friday, Feb. 1
Anna Owsley, Mill Valley News editor-in-chief
February 4, 2019
The boys basketball team lost to St. James 65-62 on Friday, Feb 1. The team's record is now 2-13.
Head basketball coach Michael Bennett was happy with the game, despite the ending score.
"It was just a great high school game. We got down early and it put us in a bad hole. Our kids fought hard, fought back and tied the game at half. We got it back, tied it, and [St. James] took a two point lead as we went into half time," Bennett said. "[The Jaguars] did some good things at third quarter and then we had a six point lead with four minutes to go [in the game]. We just didn't finish the play, and didn't finish down the stretch."
At the end of the first quarter, the Jaguars were behind 21-12. Senior Matty Wittenauer attributes this to a lack of focus and intensity in the beginning of the game.
"We weren't focused enough and I honestly think [St. James] brought more intensity to the game, but after that first initial hit I think we matched it, probably exceeded it," Wittenauer said. "We just lost our heads a little bit, and turned over the ball."
Wittenauer saw a change in pace at the end of the first quarter that grew the team's intensity.
"What gave us momentum going in into the second quarter was that we played good down the stretch of the first quarter, we cut down the lead with that three at the end, which was really big and helped us," Wittenauer said.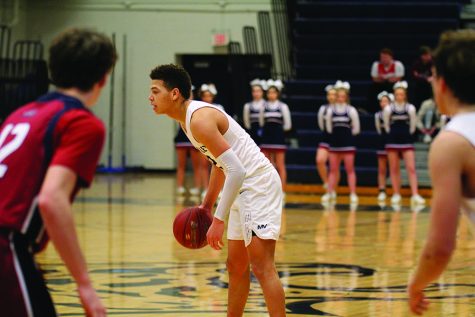 This newfound momentum brought the scores close by halftime. A three pointer by Wittenauer near the end of the second quarter tied the game, but a shot by St. James put them back in the lead, heading into halftime with a score of 28-26.
Junior Brayden Wiltse attributes the team's success to the motivation they brought into the third quarter.
"We just kept attacking it, kept our heads up, we didn't put our heads down or give up," Wiltse said. "We just kept fighting and things started falling and we just kept going with it."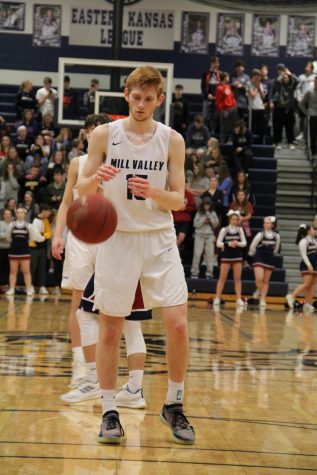 Heading into the fourth quarter the score was tied 43-43. A few minutes in, the Jaguars stole the lead for the first time after a shot made by Wiltse.
Despite having developed a six-point lead in the last four minutes of the game, the final score was 66-63. Bennett attributes the loss to the amount of turnovers and lost rebounds in the fourth quarter.
"Turnovers [were our downfall]. We gave them too many chances to score, we sent them to the free throw line late and they had a couple buckets under the basket," Bennett said. "We didn't rebound late in the game. Those culminated together with us not getting it done."
The Jaguars play their next game at Saint Thomas Aquinas on Friday, Feb. 8 at 7:30 p.m.
(Visited 150 times, 1 visits today)