Boys basketball team beats Tonganoxie Chieftains to become 2-6
Jaguars beat Tonganoxie Chieftains 53-46 on Friday, Jan. 16 improving record to 2-6
See more boys basketball coverage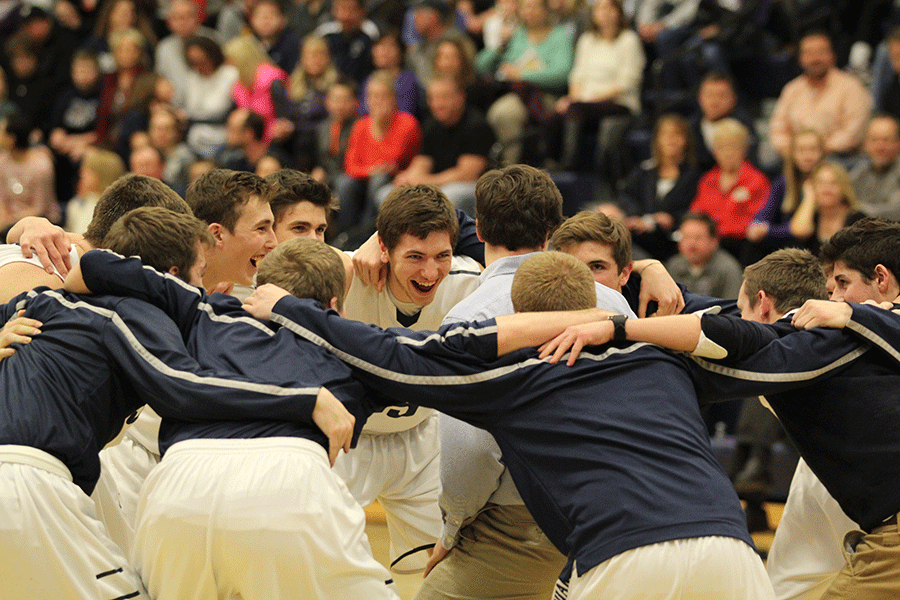 The Jaguars broke their three game losing streak with a 56-43 win against the Tonganoxie Chieftains on Friday, Jan. 16. This win improved the team's record to 2-6.
Even though the Jaguars came out on top, junior Jaison Widmer sees room for improvement.
"I think we played great … We [still] need work on the defensive end," Widmer said. "[Tonganoxie] got a lot of easy shots and a lot of offensive rebounds."
Tonganoxie took an early 4-0 lead, but after baskets by Widmer, junior Clayton Holmberg and a three-pointer by freshman Cooper Kaifes, the Jaguars led 7-4.
Additional three pointers by Widmer and senior Evan Kopatich added to the Jaguars 19 points in the first quarter. At the end of the first quarter, the score was 19-11, Jaguars.
In the second quarter, Widmer scored five of the Jaguars 10 points. While statistics showed that Widmer played well at the basket, he agreed.
[My strengths tonight were] attacking the basket and getting good shots," Widmer said.
The Jaguars led the Chieftains 29-26 at the half.
Winter Homecoming coronation took place at halftime. Seniors Sebastian Uriarte and Mikaela McCabe were crowned King and Queen.
The game resumed after coronation. Junior Kasey Conklin, Holmberg and Widmer scored the teams 14 points in the third quarter.
"We knew we needed to come out in the third quarter and increase the stretch and get some points on the board," Widmer said.
In the fourth quarter, the Jaguars outscored the Chieftains 10-8 bringing the final score to 53-46.
The team's next games will be in the McPherson tournament from Thursday, Jan. 22 to Saturday, Jan. 24.
(Visited 46 times, 1 visits today)