Boundary committee members present proposals at fifth meeting
Committee prepares proposals for public forums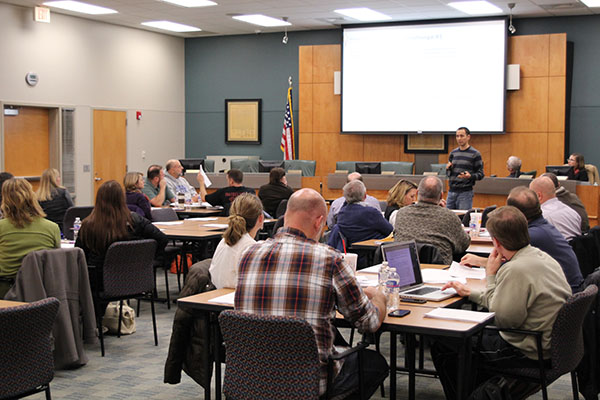 Committee members who had written boundary proposals designed to solve overcrowding problems in the district were able to present their proposals to the rest of the committee on Thursday, Jan. 16.
A total of 19 proposals were submitted and were organized into four categories: no boundary change options; elementary, middle and high school change options; sixth grade center options and middle school change options. Each proposal was reviewed by the directors of five district departments, who left comments on the proposals regarding the logistics of the options.
Committee member Will Stelle submitted three proposals. One suggested no boundary change and the implementation of open enrollment to Lexington Trails Middle School, Mill Creek Middle School and DHS; another suggested minimal middle school boundary changes and the last suggested the use of a sixth grade center.
"I think that for the two with voluntary transfers or minimal changes, I think we can likely get the numbers of students we need, and we would have more time for analysis of a sixth grade center," Stelle said. "… I view the first two as the first step to alleviate the issues next year and get a really in-depth analysis of how a sixth grade center would work."
Four proposals were submitted arguing for the use of sixth grade center, each suggesting use of a different school for use as the center. Committee member Roger Templin suggested MCMS in his proposal, while the other three proposals suggested use of Belmont Elementary, Mize Elementary or LTMS.
"I think it's really difficult to ask middle school parents to drive past a functioning middle school to send their kids to another school," Templin said. "To me, the sixth grade center makes a lot more sense, and having it at Mill Creek makes a lot more sense. That will help transition into a third high school as the growth warrants because when you have that final high school, Mill Creek naturally feeds into it."
All proposals will be presented at two public forums taking place at Monticello Trails Middle School on Wednesday, Jan. 22 and at De Soto High School on Thursday, Jan. 23. The forums will be "come-and-go" events in which patrons can review the proposals. They are then encouraged to ask questions or explain concerns to Board members, district administrators and any committee members in attendance.
Director of administrative services and community relations Alvie Cater encourages feedback from district patrons attending the forums.
"We want them to feel like their feedback is welcome, and they can do that in any way possible," Cater said. "… They should let their elected leaders know what they like and what they don't like about the proposals."
While the process has yet to be completed, Cater believes use of a committee comprised of patrons would be a good way to solve district problems in the future.
"The school district belongs to the taxpayers and our parents, so I think that in the future this can serve as our model," Cater said. "I think what Board members and administrators can take away from this is that they need to listen to their [patrons] because the district belongs to them."
The information will be presented to the Board at its next meeting on Monday, Feb. 10.
(Visited 8 times, 1 visits today)