Boundary committee members discuss future boundaries
Four committee members discuss the process of creating new boundaries and the role of public opinion
This is part of an inside look at overcrowding in the De Soto school district.
Why did you want to join the boundary committee?
MB: My family [used to be] part of the demographic of people who had to keep moving schools. [I joined] to learn the process, learn why it happens and try to make it more stable.
SH: I wanted to hear the patron's point of view firsthand because I'm going to be one of the people voting on a decision.
What brought about the need for new boundaries?
CE: Mill Valley and Monticello Trails are projected to keep growing and exceed capacity while Lexington Trails and De Soto High School are going to decline [in population] over the next couple years.
What do you think needs to be considered when deciding the new boundaries?
CE: They need to keep us in mind. It seems asinine for me to have to go that far [to DHS] when I have an option so close.
MB: I also think the quality of education that you're getting [should be considered]. The capacity of a school can really hinder its ability to use curriculum effectively.
SH: There are a lot of financial issues involved, too. Taxpayers have invested in the area. They have a financial investment and an emotional investment in the area. Their kids have gone to school together. That's a real thing we have to consider, in my opinion.
How will students currently in high school be affected by these changes? 
SH: The process has just started, and I don't think any decisions have been made yet on whether there will be any grandfathering or whether anybody will have to move … There has to be some change made. Whether it's building newclasses, whether it's restructuring curriculum to gain great capacity, or whether it does end up being a boundary change.
CE: I know [there's a possibility that] I'll end up having my senior year at DHS where everything's different than what you're used to and you're just having to cope with all of that new stuff. Socially, you'd have to rebuild.
How is the process of making the decision going to work?
MB: Throughout this, they're having specific boundary committees, and then they're going back to the community a couple times. It really comes back to the public, so if there's any questions or any input, then at those meetings we can take it before we actually go to the Board itself and present any solutions to the Board.
SH: The process is designed to get everyone involved that can possibly be involved. That includes committee members that hopefully will be bringing all sorts of ideas.
What challenges does possibly changing the boundaries present to the committee?
CE: Keeping in mind all of the people it will affect and just dealing with all the different ideas and finding the one that will fit the district best.
GC: I think the biggest problem is not making a ton of people mad but also having to combine that with the financial aspect, and a lot of people aren't going to see that and really understand it.
How are you going to include input from the people you represent?
MB: If anyone has questions, we're supposed to bring those questions to meetings or try to answer them and get feedback.
GC: I think talking to a lot of people about it and making sure they are thinking about it. Some of these out-of-the-box ideas will come from this school. We need to make [this issue] public knowledge.
SH: Come to me with something reasonable. You don't get change without a sacrifice. Hopefully the sacrifice is minimal, but there is going to be one made in order to get change.
(Visited 43 times, 1 visits today)
About the Contributor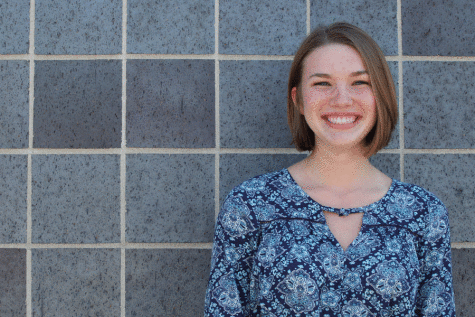 Sarah Myers, JagWire editor-in-chief
This is senior Sarah Myers' third year on staff. She is excited to be a JagWire editor-in-chief and make the paper the best it can be. While not in the journalism room, Myers can most often be found in the theater, performing in a musical or play. She is also involved in NHS, SLT and Student Ambassadors. Myers loves journalism, theater, any class of art teacher Jerry Howard's, history, life science, art, music, people and God. In her free time,...