Bored? Try this.
A compilation of things to do throughout your time in quarantine and social distancing
Like many, I have struggled to fill my time due to the widespread pandemic and it has caused me to get very creative with my time. Without any hobbies due to my heavy involvement with the school, a lot of time at my home is a rare occurrence for me. Below are the things that I have tried doing throughout my time encapsulated in my home. Not all of them were enjoyable for me, but they are all worth a try. 
Crafty
Paint – Canvases, paints and brushes on amazon aren't too expensive. If you don't want to order canvases, see what you have around your house that you could paint (wood scraps, light switch covers, paper, storage containers, etc.).
Tie-Dye – Many dye kits are available on Amazon (I recommend Tulip brand for vibrant colors that don't fade). Here are some techniques and tips for normal tie-dying: https://www.wikihow.com/Tie-Dye-a-Shirt. In addition, staining clothes with a one-to-one bleach-to-water mix can add variety to your tie-dye adventure. Be careful with bleach and it's contact with your skin and clothing; wear gloves and have bleach set on clothes for 10 minutes or until desired decolorization. After 10 minutes, wash the bleach out and wash the bleach dyed clothes separately from other clothes. For more information click here: https://www.wikihow.com/Tie-Dye-with-Bleach
Outside
Hammock – Don't have two trees close to each other? Check to see if your fence posts are strong enough to support weight and hook between your closest tree to the fence and the fence post (make sure it is the structural support post, not one of the posts between them).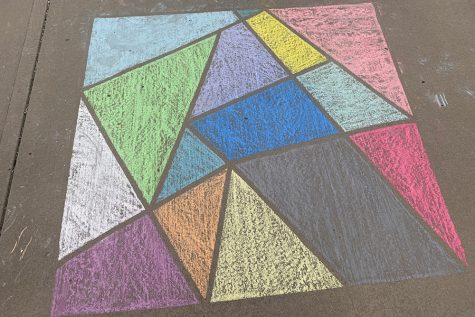 Draw some sidewalk or chalk art – Brighten up other people's walks with drawings on your driveway. No art experience required. This is also a fun way to social distance with friends.
Listen to music – Looking for something new? Keep scrolling for playlists made by students for the quarantine or at the very bottom is history teacher Jeff Strickland's music recommendations.
Make a garden – April is a nice time to plant most herbs, small fruit and vegetable plants. Starting them in pots and then moving them to somewhere in your yard or in a raised plant bed is ideal. 
Go on a walk – Take a walk around the neighborhood or see how far you can walk. Get some exercise for once.
Online
Skribbl.io – Similar to Pictionary, you and your friends can log on to this free website and play with each other. Custom words are optional but make guessing more fun.  
Jackbox – One member of the playing party has to buy the game but can project several different games to the playing party in a Kahoot-like fashion. 
Video games – I personally recommend Minecraft, social distancing is not required and it is a fun way to still hang with your friends. 
See if your old gaming consoles still work – Your old Wii, Playstation, Xbox (etc) is yearning for some attention right about now. 
Make a Powerpoint and present to friends – Presentation can be about anything: your life, crazy stories or something random you are passionate about. With either Discord or Zoom, screen sharing is an option, there is where you present your topics to the group. 
Netflix Party – This easy to install Chrome Extension synchronizes Netflix viewers' screens, allowing them to watch movies, tv shows or documentaries at the same time. While there is a chat option, pairing with zoom or discord allows for in time discussions or reactions about the show. (Chrome extensions aren't available on school laptops so a different computer would need to be used.)
Youtube – www.Watch2Gether.com is a website similar to Netflix Party where members of the viewing party can paste the URL of a youtube video into a queue and simultaneously watch the same youtube videos. 
Inside
Rearrange your room –  Since most students are spending a lot more time at home than usual, configure your room in a convenient manner for optimal relaxation and an area useful for somewhere to work while doing classwork. 
Bake or cook – You can't complain about no food being in the house if you make something.
Deep clean – Go through your closet and finally get rid of everything you don't have a use for. While some local thrift type stores may be closed, save your donation items for a safer time to donate. 
Write family or friends a letter – Write to someone you haven't been able to talk to as much due to social distancing. 
Watch a movie – Watch a "feel good" movie such as Contagion to make you feel better and ignore the pandemic. Nothing like a good ole virus movie to make your day interesting. 
Make a playlist to fit the pandemic or any mood –
Jeff Strickland's music recommendations- Below are the exact words of Strickland and what he recommends listening to during this time.
Individual songs-

Eclectic mix of stuff that might broaden your horizons and lead you down some tasty musical rabbit holes.

Waitin' on a Sunny Day by Bruce Springsteen (written right after 9-11)

Go with the Flow – Queens of the Stone Age

Marcus Garvey – by Burning Spear

Harvest Moon by Neil Young

Fire by The Ohio Players, 

Voodoo Child (Slight Return) by Jimi Hendrix

If you like this, listen to the live version on the album Electric Ladyland.

Albums-

Albums are meant to listen to as a whole.  Have patience and drink in the music and lyrics….you might find something you like. 

Old school hip hop

The Low End Theory by A Tribe Called Quest

Ill Communication by The Beastie Boys

Old school rock

Van Halen II by Van Halen 

A Night at the Opera by Queen

Led Zeppelin II by Led Zeppelin 

Sticky Fingers by The Rolling Stones

For You Jazz Enthusiasts 

Birth of Cool by Miles Davis 

Lady Sings the Blues by Billie Holiday

Miscellaneous Albums

Hypnotic Nights by Jeff The Brotherhood 

Bleach by Nirvana  

Abbey Road by the Beatles 

Rumours by Fleetwood Mac  

Rocket to Russia by the Ramones 

The Blue Album by Weezer 

Tim by The Replacements

Pay close attention to the song "Bastards of Young," a good teen angst anthem that stands the test of time.
(Visited 351 times, 1 visits today)