Board votes in favor of no boundary changes
Board votes 5-1 to keep current district boundaries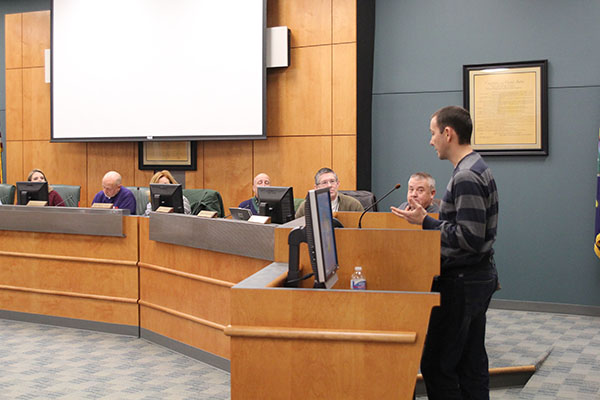 After spending nearly $54,000 on an enrollment study and meetings, the Board of Education voted 5-1 not to change any district attendance boundaries at a special meeting on Monday, March 3.
This option was one of three finalists, the second two being changes that affected middle schools. These three proposals were selected in February by the Board out of 18 proposals submitted by members of the enrollment and boundary committee.
This decision comes after months of discussion between committee members. After a study conducted by RSP & Associates revealed enrollment issues, including overcrowding at some schools and underutilization of others, the committee began meeting in October, finally submitting proposals for review by the district in January. These proposals were then presented to patrons at two public forums in late January. The Board began discussion of this issue at its February meeting before voting for to make no changes.
Board member Tim Blankenship was absent from the meeting, and Board member Rachele Zade voted for changes. All other members believed no change was necessary.
"There just weren't enough students to justify the inconvenience it would cause people just a short term solution," Board member Bill Fletcher said. "Most of [the patrons] were happy that we didn't make any boundary changes. I don't think I've gotten any negative [reactions] on it. It just doesn't cause any turmoil this way, and it doesn't affect the education."
Board president Mitch Powers didn't want to make changes because this option followed one of the Board's goals in discussing this issue.
"[I favored no boundary change because of] minimal impact to the families of the district, which was one of our guiding principles," Powers said.
Superintendent Dr. Doug Sumner said the total cost of this process was $53,700, which encompassed the cost of including RSP & Associates, running the committee meetings and public forums, gathering data and providing boundary maps.
However, some committee members were frustrated with the process by which this decision was reached.
Math teacher Brian Rodkey served on the committee and felt it would have been better for the Board to take action.
"My initial response [to the decision] was disappointment," Rodkey said. "I don't feel that was a wise long-term decision. It seems like we're just crossing our fingers and hoping the enrollment projections are wrong."
Rodkey thinks the process should have been planned better.
"The way it was proposed in the beginning was that the job of the committee was to formulate a plan to solve overcrowding in the district, and we didn't do that at all," Rodkey said. "We submitted 18 proposals … we didn't come up with a plan as a committee. I think that part of the problem was that we wasted the first two meetings. We should have started hammering out a plan in that second meeting. I thought the process the committee was supposed to follow was poorly thought out."
Junior committee member Maddie Butterfield enjoyed learning from serving on the committee, and she thinks a similar process needs to be used in the future.
"Although it was a really long process, I think it was a great learning experience, and it helped us realize as a [committee] and a community how arduous the process is," Butterfield said. "I also think we learned that this needs to be something we look into every couple of years."
Fletcher liked the use of a committee, but he believes it needs to be directed better in the future.
"I think that if they would have better direction than from the company we hired, it would have gone smoother," Fletcher said. "Instead of 18 choices, we could have narrowed it down."
Rodkey also likes the idea of a committee, but he thinks it needs to make a more efficient use of its time.
"I think a committee is a good idea because it gets input from a lot of different people … but we shouldn't have spent one meeting doing an icebreaker game and wasting time," Rodkey said. "We don't have time for that, and adults should be able to come together and be productive. They shouldn't need all of that hand-holding stuff."
According to the projections by RSP & Associates, some schools will still face overcrowding in the near future. Monticello Trails Middle School is expected to continue to exceed capacity, and Mill Valley High School is expected to reach it soon. Open enrollment may be used to solve underutilization of De Soto High School and Lexington Trails Middle School.
(Visited 5 times, 1 visits today)