Blue band presented superior one rating at Central States Marching Festival
Color guard, band and drum line all awarded one ratings
Tricia Drumm, Mill Valley News editor-in-chief
October 9, 2017
Blue band took to Manhattan on Saturday, Oct. 7 to compete in the Central States Marching Festival. While there, they went through a clinic with Kansas State University band students in the morning and performed in the late afternoon. At the end of the night, there were one ratings among drum line, color guard and band in general.
This year, the band's medley was "Transformation." It included three movements to "The Avengers," "Twilight Overture" and "Transformers: Revenge of the Fallen."
Senior drum major Sydney Parker said she was really proud of how the band did as a whole.
"Throughout the show, their sound, I thought, was really good for the most part," Parker said. "When we attacked certain notes, especially in 'Transformers,' you could hear it echoing off the stadium. It sounded like gunshots to me just because it was so loud. I thought the band did really well."
Similarly, sophomore Cahill Eckardt, who's a part of drum line, recognized the band's strong sound as an overall strength.
"We really focused on using all of our sound, so putting all of our voice, so to say, into our instrument to get the most full sound," Eckardt said. "Even if it's a quiet part of the song, it still uses volume to crescendo and make it more dramatic."
During the clinic, the band broke off into sections by instrument. In the drum majors' session, Parker said the KSU drum major suggested they keep their hands lower and make their ictuses sharper. For the drumline, Eckardt's clinician focused on polishing the dynamics and making the right sound for the snare drums.
"When we came back together as a band after that, [the director] really emphasized the importance of starting out the first song strongly and hitting the first step-off because it's the first impression that the judges and the audience will see," Parker said. "We want to assert ourselves as proud of what we're doing, and also assert ourselves as we know what we're doing."
Eckardt considered this performance better than the previous one at Emporia State University on Wednesday, Oct. 4.
"I think we were more ready for it and excited. We were just really hyped up about it," Eckardt said. "It was our last performance, so we wanted to give it all we had and leave it on the field."
(Visited 67 times, 1 visits today)
About the Writer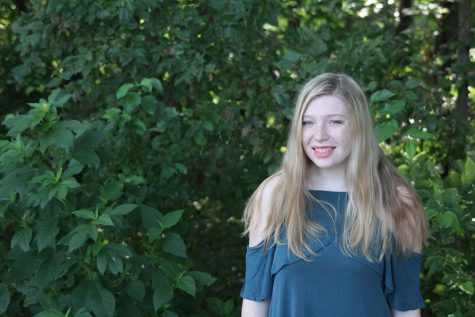 Tricia Drumm, Mill Valley News editor-in-chief
Senior Tricia Drumm is undertaking her third and final year on the JagWire staff and will be one of the three magnificent Mill Valley News editors-in-chief. When she isn't in the journalism room, she's singing alto in Jag Chorale. In her free time, Tricia loves to read, write, prance around in her heels, hang out with her dogs and friends, obsess over "Criminal Minds" and sleep — a lot.