Blog: Review: 'Spring Breakers'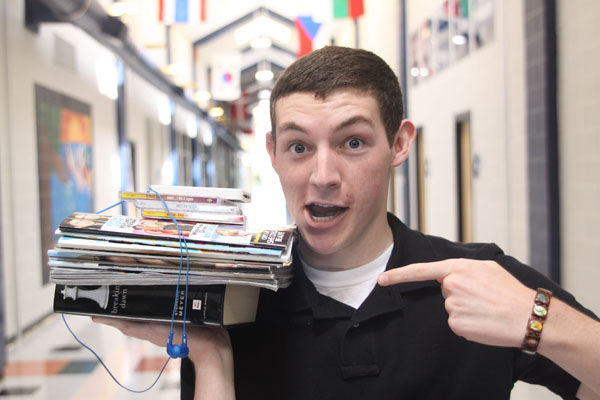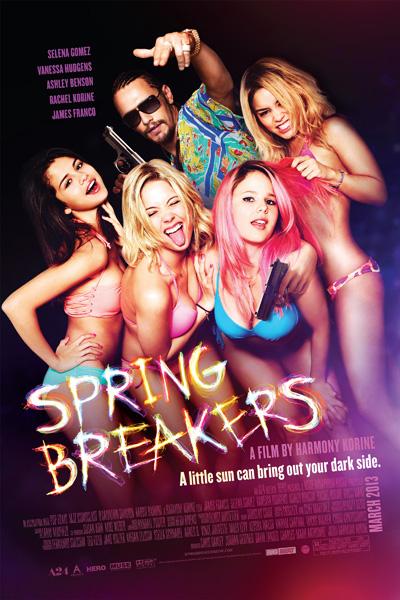 You're surrounded by beautiful people, have seemingly endless amounts of cash, have been partying nonstop on the beach for the last week and are accompanied by your three best friends. Maybe you're vacationing on your dream spring break, or maybe you're just a character in Harmony Korine's latest flick "Spring Breakers," which hit theaters last Friday.
The film, which seems to have received mixed reviews among my peers, is a captivating, dark and edgy thriller. Although it stars former Disney girls Selena Gomez and Vanessa Hudgens, along with "Pretty Little Liars" star Ashley Benson, the film is no "Project X." This grungy indie is a work of art that – with some thought and understanding on the viewer's part – is fantastic.
"Spring Breakers" is about four college-age best friends: Faith (Gomez), Candy (Hudgens), Brit (Benson) and Cotty (Rachel Korine), who rob a bank to fund the spring break of their lives. They find themselves having the time of their lives without a care in the world until the cops bust them. After being put in jail, the girls are bailed out by a thug named Alien (James Franco), who essentially takes them under his wing to do his dirty work against rival thug Archie (Gucci Mane).
On the surface, "Spring Breakers" may appear to be only a trashy film full of drugs, alcohol and strong sexual content, but it's so much more than that (although I'll warn you that it's absolutely rated R for a reason; there is a lot of extremely graphic content that is a lot to take in at times). If you're familiar with Korine's work, such as his 1995 film "Kids" and 1997's "Gummo," you would know he doesn't make cookie-cutter films intended to appeal to mainstream audiences.
Ultimately, the film is not about a group of teenage girls going crazy. Although it's up for interpretation and others may find a different meaning of the film, the message I got from it deals with underlying themes of white privilege in society, all while satirizing the behavior of today's youth. Korine so obviously exaggerates the characters' use of drugs, alcohol consumption and promiscuity in the film to portray this. The characters have a tremendous greed for money, which they fulfill by robbing a bank, and a very strong desire to have the perfect spring break with no regrets. These ideas portray modern youth's corrupt and naïve belief that there is such thing as a dreamy lifestyle full of riches in which everything is perfect and bad actions come with no consequences.
The idea of white privilege is obvious through the comparison of the girls and Archie's gang. Archie and his gang, all middle-age African Americans, are made out to be the despised villains in the film due to their dangerous, murderous behavior and abuse of vices. However, the four young white girls are doing the same all while being made out to be the instinctively assumed protagonists of the film. Korine hints at modern stereotypes and emphasizes the concept that every person, regardless of race or age, has the same amount of evil inside and ability to be the "bad guy." He's very subtle in doing so, so it makes sense that many of my peers have failed to see the film the way I have and find it to be garbage.
Korine does a great job of representing these ideas cinematically. Bright neon filters are applied to the film in places where a carefree spring break is represented, and dark and eerie filters are used to highlight more serious and dramatic scenes. A lot of choppy cuts going back and forth between different scenes and the repetition of certain lines did make the film feel a bit redundant and tiring, but it definitely gets Korine's message across.
One scene that stands out to me in particular is the critically raved about "Everytime" scene. It starts with Alien playing poolside on the piano the instantly recognizable Britney Spears song. The girls soon chime in and their voices slowly fade away as Spears's original vocals on the track take over. For the duration of the song, a reel of imagery of the girls doing ruthless and corrupt things is shown simultaneously. The song's lyrics are quite daunting, but the softness of Spears's vocals and the beautiful piano riff composing the song contrast what's being shown visually, leaving the viewer feeling a sense of confusion. But it's not a bad type of confusion; it's the type of confusion that was purposeful and meant to baffle you.  It's likely Korine made this cinematic move in order to leave a lasting impression on viewers, which it did for me.
The film's score, done by Skrillex and Cliff Martinez, was also well done. Skrillex and Martinez did a nice job of conveying each scene's mood very naturally. As far as character development goes, "Spring Breakers" is definitely lacking in this area. Aside from Gomez's and Franco's characters, the leads are not given much material to work with, which left me feeling like I knew nothing about them. This is understandable, though, as the film is not so much about the characters as it is the story. Gomez did a good job portraying her character's torn-between-religion-and-peer pressure storyline, and Franco, who was noticeably given the most to work with, did a fantastic job at channeling Alien. His performance is hands down award worthy; he was completely unrecognizable, just the way an actor should be in a film.
One of my only beefs with the film is the way it was promoted. Putting the ex-Disney girls in this raunchy film was a bit unexpected, although that part's whatever. The problem is that the film relied too heavily on them to attract its audience; their names were practically pasted all over the project. Next to this, the movie was advertised to the public as a comedic, raunchy teen partying movie. Sure, this drew in a crowd, but it was the wrong crowd. In order for Korine's work to be truly appreciated and understood by those who see the film, its target audience shouldn't have been teeny boppers who fangirl over Gomez or teenage boys who only want to see a lot of girls in bikinis.
Marketing aside, I give the film a solid four out of five stars. "Spring Breakers" has really stuck with me since I saw it and I'm eager to experience it again. Although I hope my more optimistic views on the film offer a different perspective to consider, this is definitely a film whose beauty is in the eye of the beholder. If you plan to see it (note to teens: spare yourself the awkwardness and don't see it with your parents) walk into the theater unbiased and leave with your own opinion on what Harmony Korine's purpose in making this film was. "Spring Breakers" is no "Dora the Explorer;" no one's telling you point blank what's right or wrong to think.
(Visited 12 times, 1 visits today)
About the Writer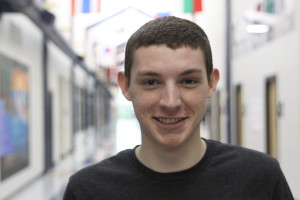 Austin Gillespie, editor-in-chief
Senior Austin Gillespie is one of the three editors-in-chief of JagWire this school year. Gillespie joined staff his sophomore year as a reporter and page designer. His junior year, Gillespie was the A&E editor. As a newspaper enthusiast, he is prepared to help lead this year's paper to success.