Blog: Breathe Carolina and Karmin, a collaboration made in heaven
If you didn't already know from previous blogs, I love Karmin. I've been a fan of them since before they were famous, and I think their new music is amazing. I also really like punk and electronic music, so I think Breathe Carolina is pretty cool. When I heard Breathe Carolina and Karmin collaborated on a new song, I had to listen to it right away. About five seconds in, I was addicted.
The song, entitled "Bang It Out," features many staples of Breathe Carolina's music – mainly, lots of vocal effects and heavy electronic production – and uses them well. Lead vocalist/multi-instrumentalist David Schmitt's vocals are up to par, combining a very punk sound with effects such as autotune (used rather tastefully, actually). The song's instrumentation combines two electronic dance music (EDM) subgenres, dubstep and house, to make a rather interesting product. While it may not be lyrically profound, you should've already expected that from Breathe Carolina, a group that writes songs about blacking out and getting girls.
What sets the song apart from others is Karmin vocalist Amy Heidemann. Her bridge provides a refreshing sound to a song dominated by production, as her vocals do not seem to have any added effects to them. My only major criticism of the song would be the underuse of Heidemann's vocals, as she only sings an eight line bridge and one line in a chorus. Even though she is only a featured artist, her vocals could have still been incorporated into the song more. At first, I was expecting a duet of sorts, with perhaps even a rap interlude. Heidemann did do well with what little she sang, I just wanted more afterward.
Despite this, "Bang It Out" is still a pretty good song. Karmin and Breathe Carolina seem to complement each other quite well, and I'd love to hear another collaboration from them in the future. If you like "Bang It Out," I'd strongly advise you check out other songs from both Breathe Carolina and Karmin, as they're both very good standalone groups as well.
Click here for more Music Man blogs.
(Visited 15 times, 1 visits today)
About the Writer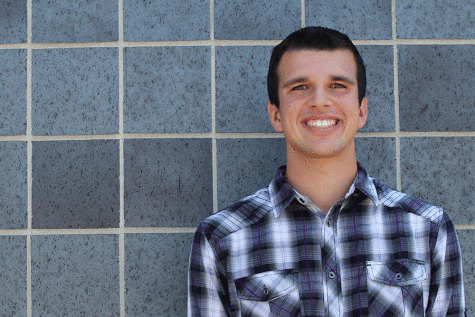 Justin Curto, Mill Valley News editor-in-chief
This is senior Justin Curto's third year working on the JagWire and Mill Valley News, this year as one of the editors-in-chief of Mill Valley News. Outside of journalism, Curto is the president of Club 121 and co-vice president of NHS, and also plans to be in the spring play for the second year. Curto enjoys going to alternative rock concerts, spending time with friends, eating pizza, reading contemporary young adult fiction, watching coming-of-age...