Blog: Album review: Vessel by twenty one pilots
As many people know, I listen to a wide variety of music. I enjoy alternative, rock, pop, rap, punk, folk and electronic music. And for a while, I've been trying to find an artist that fits into all of these genres in one way or another. I had almost given up. Then I found twenty one pilots.
twenty one pilots is an alternative duo made up of vocalist/multi-instrumentalist Tyler Joseph and drummer Josh Dun. Vessel is their third album, but their first under a major label. And once i started listening to it, I couldn't stop. The album opens with an electronic intro and slowly transitions into Joseph's amazing rapping, as part of the track "Ode To Sleep." From there, it gets even better.
Many of the songs are upbeat, danceable and just give off a good vibe. Joseph divides his time between rapping, singing and screaming, and his voice is great for all three. Lyrically Joseph gets vulnerable, writing about topics like depression and religion. There's probably a song on the album for everyone to relate to. The songs are held together by amazing synthpop beats that can get repetitive at times, but are generally pleasing to the ear.
A few tracks definitely stand out. "House of Gold," and ode to Joseph's mom, lightens the mood of the album through happy lyrics accented with ukulele and piano chords. "Holding On To You," the album's most popular song to date, shows Joseph's rapping potential and just makes me want to jump around and dance. The duo's darker side is seen through "Car Radio," where Joseph speaks about depression in a poetic way. The best song on the album though, by far, is "Screen." Another song featuring ukulele, Joseph sings and raps about putting up a front and the song culminates with a crowd joining Joseph in singing.
Altogether, the album is definitely worth buying. I wouldn't be surprised if it took home a few awards in the near future, and I'm looking forward to hearing a lot more good music from twenty one pilots.
(Visited 18 times, 1 visits today)
About the Writer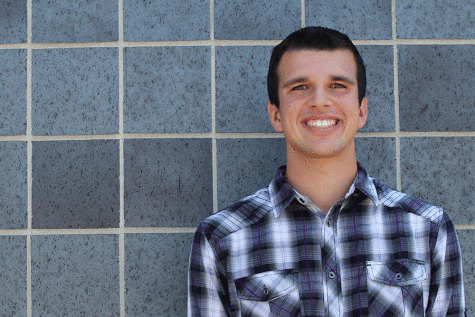 Justin Curto, Mill Valley News editor-in-chief
This is senior Justin Curto's third year working on the JagWire and Mill Valley News, this year as one of the editors-in-chief of Mill Valley News. Outside of journalism, Curto is the president of Club 121 and co-vice president of NHS, and also plans to be in the spring play for the second year. Curto enjoys going to alternative rock concerts, spending time with friends, eating pizza, reading contemporary young adult fiction, watching coming-of-age...