Billie Eilish is a bad influence on teenagers around the world
Eilish's music normalizes depression and makes being sad desirable
Steven Curto, Mill Valley News editor-in-chief
September 9, 2019
Growing up in a loving and supportive family, I had never felt a severe or profound sense of long-term sadness. I had never even heard the word depression until I reached the age of thirteen and encountered students at my middle school who were suffering with mental health issues. With September being Suicide Awareness Month, I thought it was only fitting to express how children and teens are learning about depression and other mental health issues at a younger age, with depression doubling among teenagers in the past decade. 
There is a trend in music and on social media of teenagers romanticizing depression or, as journalist Andrew Matson pegged it, "the trendification of suicide".  Seventeen-year-old singer and songwriter Billie Eilish has built a whole career by normalizing depression in Generation Z. In 2015, the then 14-year-old Eilish uploaded "Ocean Eyes" to SoundCloud and became an overnight viral sensation. After going viral on SoundCloud, Interscope Records signed her which was a turning point in the music industry because it popularized sad slow music. Ever since then, my life, social media feed, YouTube recommendations and car radio are filled with all things Billie and depression. 
Eilish's music videos are filled with sadness and depression-related objects and scenes. As I go on, I want to state that there is currently no study known that links "sad music" to an increase in anxiety or depression. Although, there have been correlational studies conducted where fans imitate their idol's emotions and behaviors, so Eilish's portrayal of sadness and depression is sending her fans and teens the wrong impression. Her music video "When the Party's Over" (which is unavailable in restricted mode on YouTube) depicts Eilish sitting in a white room resembling a padded cell in a psychiatric hospital and lip-synching the words of her song while black liquid flows out of her eyes. Eilish's other music video for the song "Lovely" features herself and fellow singer Kahlid trapped in a glass box that fills up with water and shows them drowning. These two music videos have garnished a combined total of 782 million views on YouTube. Teenagers who see the number of views both these music videos have and see the content displayed in the music video might feel pressured to have depression even if they are not suffering from a mental health disorder. After these two music videos were released, I saw an explosion of teenagers visibly displaying their anxiety and depression online through social media apps such as TikTok, Twitter and VSCO. 
Teens also might equate depression and mental health problems with Eilish's success. Vanity Fairs' "Billie Eilish: Same Interview, One Year Apart" video on YouTube garnished 50 million views and showcases Eilish's remarkable growth in a year. In Oct. of 2017, 15-year-old Billie Eilish had 250,000 followers, and in Oct. of 2018 16-year-old Eilish had 6.3 million followers. Teenagers who watched this YouTube video and saw the massive growth she amassed in a year may envy her and equate her success to being depressed. The way Eilish presents herself in her music and music videos needs to change or else teenagers will inevitably continue the cycle of depression. Eilish now has over one billion amassed Spotify listens, over 19 million subscribers on YouTube and 36.6 million followers on Instagram. Through her use of sadness and depression depicted in her music videos to her discussion of suicidal thoughts and self-harm presented in her music, Eilish has made having mental health problems seem cool. Billie is a bad influence on teenagers around the world who may hear her music, watch her music videos and see her massive success online as a means to become depressed themselves. She may have inspired and given hope to teenagers already suffering from depression by showcasing her struggles as a public figure, but she has also started a trend in America and around the world of depression and self-harm being cool and the new norm.  
(Visited 55,941 times, 55 visits today)
About the Writer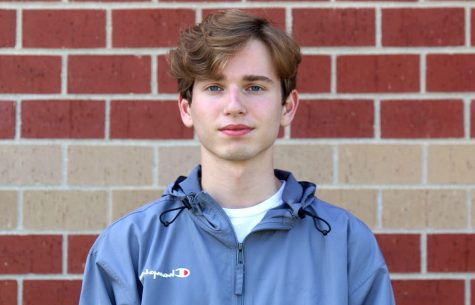 Steven Curto, Mill Valley News editor-in-chief
This is senior Steven Curto's third year on the JagWire staff. He is undertaking the position of Mill Valley News editor-in-chief. When he isn't occupied with the undertakings of running the website, Steven can be found doing various tasks as the president of Club 121, working at Panera on the weekends and doing homework for the numerous AP courses he enrolled himself in this year. When he's not busy working or being productive, he can be found...