Baseball field renovations begin
Starting with the addition of a new scoreboard, other renovations will be added in years to come
The first step of several-year-old plans to renovate the baseball field came to fruition Friday, Sept. 25, with the installation of a new scoreboard.
Although all of the field's renovations won't be done for several years, according to head baseball coach Jeff Strickland, the team does expect to host a couple of home games on campus this season. With the non-renovated field, games and practices had to be hosted at the 3&2 Baseball Club.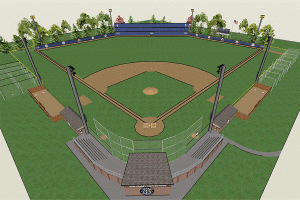 Other renovations will include new bleachers, a batter's eye, 12-15 foot wooden walls in the outfield, bullpen reparations and a press box, according to Strickland. These renovations aren't the only things that are important to the new field though, Strickland said.
"At the end of the day, we want it to be a quality field but also have its own idiosyncrasy and uniqueness to it," Strickland said. "There will be no field like it, and that's what's important."
One of the multiple ways the new field will help the baseball team is through its location, for both the team and spectators, according to senior Clay McGraw.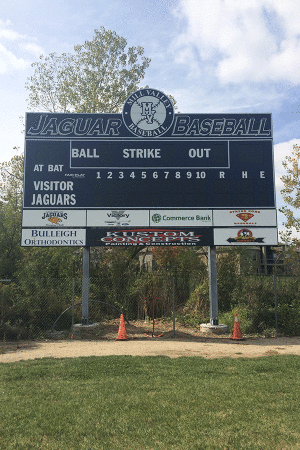 "The greatest benefit the field will bring will probably be how much closer it is compared to 3&2," senior baseball player Clay McGraw said. "It will be nice to have a field to play and practice on that we can actually call our home field."
Team members hope having a playable field at the school will bring a larger student section to baseball games, according to senior Tyler Grauer.
"Hopefully [the new field] will increase [student attendance] significantly since the game will actually be played on campus," Grauer said. "If our students can support the other activities like football and soccer that play on campus, then I believe that they will eventually support the baseball team if we permanently move to the campus field."
(Visited 176 times, 1 visits today)