Baseball defeats Rockhurst 7-3
In a home game on Monday, April 24, the Jaguars triumphed over the Hawklets
The baseball team defeated the Rockhurst Hawklets 7-3 in a home game on Monday, April 24.
The game started off with the Hawklets running in three in the top of the first inning. Mill Valley matched their three with three runs of their own in the bottom of the first.
Head coach Jeff Strickland felt confident in the team's success, and said tying Rockhurst in the first inning was an important factor in the game.
"[I am] very confident against every team we play," Strickland said."As long as we are playing in the way we are capable of we can play any team [and] beat any team. The fact that we answered their three in the first inning is really positive."
Mill Valley's starting pitcher, sophomore Quinton Hall, felt nervous as an individual player going into the game, but still had confidence in his teammates.
"I felt a little nervous, but I also feel like I had it in my pocket," Hall said. "I felt like I got loose as the game went on, started throwing strikes and letting our defense play."
One thing that has been different this season, according to senior Luke Sosaya, is the amount of games on the schedule for the regular season. According to him, more games in the schedule means less practice time, and this is something the entire team has had to adjust to.
"There hasn't been a whole lot of practice this year, getting used to the EKL has been new because we've been playing almost every day," Sosaya said. "When we can get work in we really have to focus."
Strickland believes the key to adjusting to the loaded schedule is to be aware of how much time the players are getting for rest.
"We are really cognisant of giving kids a little time off since we played," Stickland said. "We have to make sure they are getting enough rest. Last week finished nine games in a 12 day period."
According to Sosaya, one of the deciding factors of the game was the Jaguar's defense.
"I think we threw strikes better than them, and that's the key to winning; throwing strikes and putting pressure on the other team," Sosaya said. "As the game went on I feel like our starting pitcher got even better with every inning."
The team can always be improving their game, according to Strickland, and is why he says the team needs to work on all areas of play.
"You want to work on everything," Strickland said. "It's just a work in progress from our next game so nothing specific. Nothing specific and everything."
The Jaguars play again against St. Thomas Aquinas Wednesday, April 25 and will face Blue Valley Southwest Thursday, April 26.
(Visited 29 times, 1 visits today)
About the Photographer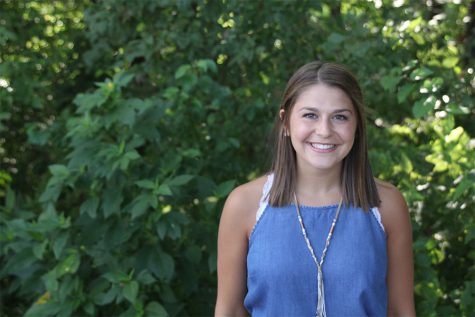 Morgan Gurwell, Mill Valley News editor-in-chief
Senior Morgan Gurwell is starting her third year on the JagWire staff and is taking on the role of Mill Valley News editor-in-chief alongside two wonderful ladies. In addition to being a NHS officer and a Relay for Life committee member, she can be found on the tennis court or swimming laps in the pool. She loves to travel, take her dog to the park and cheer on the Nebraska Cornhuskers.