Band competes in solo and ensemble competition
Band members compete in regional competition
Students from the band participated in a solo and ensemble competition at De Soto High School on Saturday, April 5. The regional competition allowed them to compete alone or in small groups. In the regionals solo and ensemble competition, getting a one at the competition allows the musician to continue to state.
Sophomore Sherry McLeod received a rating of one in her Mozart bassoon solo. McLeod said that before regionals, she practiced her piece every day for two weeks.
"It takes a lot to put together," McLeod said. "I'm preparing for state and I'm hoping to do well there, too."
McLeod hopes to do just as well at state as she did at regionals.
"I'm hoping to get a one at state," Mcleod said.  "I'm so proud of all the people from band and choir who made it, it takes a lot of work."
Senior Ian Calkins performed a low brass quartet with senior Tristan O'Brien and juniors Jack Earlenbaugh and Clayton Kistner. He hopes to improve and do better than he did last year at the state competition.
"For state, I hope to get a one because last year we fell a single point short," Calkins said.
Junior clarinet soloist Haley Dozier explained how challenging the competition is.
"It's a hard core competition," Dozier said. "The other competitors are really nice, but hearing how well other people do makes me nervous."
(Visited 45 times, 1 visits today)
About the Contributor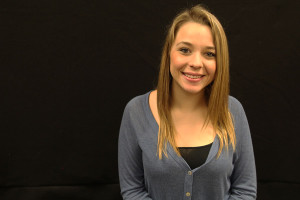 Annie Crouch, JagWire reporter
Junior Annie Crouch is a reporter for the JagWire. This is her second year on staff. In her free time she enjoys listening to music, shopping and hanging out with her friends and family. She loves animals, her friend Ellen Merrill and making people laugh. In the future she plans on graduating from the University of Kansas and getting her Master's degree in Occupational Therapy.