Athletes sign to colleges in group signing ceremony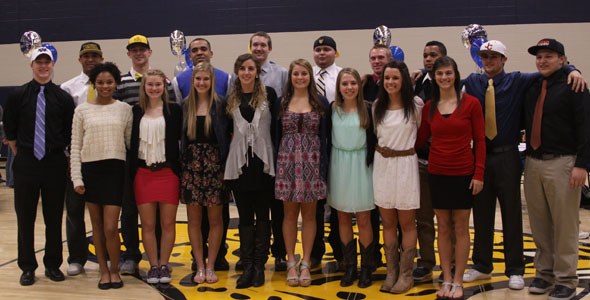 A total of 18 athletes took part in a group college signing ceremony in the auxiliary gym on Thursday, Feb. 7.
In previous years, athletes have signed separately or in smaller groups. Athletics director David Ewers said the group recognition ceremony was used at his former school and that he wanted to give athletes the chance to celebrate together.
"I felt that it celebrated the athletic department as a whole and I felt that it gave the athletes a chance to celebrate their … signings as a whole," Ewers said. "I thought it went very well. I think people overall were very pleased with the event, so if those people were pleased, I was pleased. I thought it looked very nice and professional."
Track coach Chris Dunback had two athletes sign and also enjoyed the event for the group celebration.
"I thought it was a really neat thing," Dunback said. "Instead of having every kid [sign] on their own, they turned it into a special event and I thought that was awesome. I think it's one of the best things we've done around here in a long time in terms of that. I just think the grandeur of the event … felt like a big deal. It was just a special thing to be a part of. Not only was it something for our athletes but it was also like a celebration of our school."
The following athletes signed:
Senior Kayla Hammer, University of Central Missouri, soccer
Senior McKenzie Koch, Emporia State University, soccer
Senior Hayley Seibel, Baker University, soccer
Senior Kelli Spring, Wichita State University, softball
Senior Taylor Brunson, Johnson County Community College, softball
Senior Emily Brigham, University of South Dakota, track
Senior Madison Estell, Hillsdale College, track
Senior Molly Kelly, McPherson College, volleyball
Senior LJ Hatch, Johnson County Community College, baseball
Senior Jason Younger, Baker University, baseball
Senior Zach Stinnett, Washburn University, baseball
Senior Skyler Windmiller, Missouri Western University, football
Senior Kendall Short, Missouri Western University, football
Senior Coleman McCann, University of Northern Colorado, football
Senior Knute Holden, Baker University, football
Senior Staton Rebeck, William Jewell College, football
Senior Lincoln Benson, Hutchinson Community College, football
Senior Andrew Campbell, Chadron State College, football
(Visited 34 times, 1 visits today)
About the Writer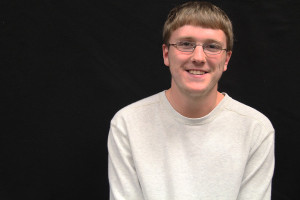 Ryan Fullerton, JagWire editor-in-chief
Senior Ryan Fullerton is a third-year staff member and holds the position of editor-in-chief. Fullerton hopes to continue the success of the staff and publication from previous school years, as well as work for the continued improvement of JagWire and MVNews. Outside of newspaper, Fullerton is a fourth-year cross country runner.