Art students paint pumpkins to celebrate Halloween
Students work to recreate famous artworks on pumpkins
In honor of Halloween, students in art teacher Jodi Ellis's Art Foundations and Survey of Fine Crafts classes painted images of famous artworks on pumpkins during the week of Monday, Oct. 26.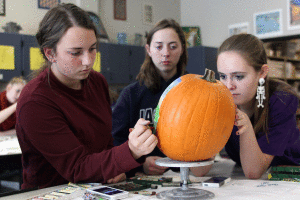 During class, students in small groups researched paintings created by notable artists, and selected works of art to reproduce on their pumpkins. Junior Camryn Willett said being able to select which artworks they wanted to use for their projects allowed students to express their creativity.
"It was fun just choosing the artwork that we wanted do and being able to paint it ourselves," Willett said.
According to senior Ally Henderson, the task of duplicating a work by a famous artist provided an enjoyable challenge.
"The best part was actually painting the pumpkin and seeing if you could recreate the master artwork," Henderson said.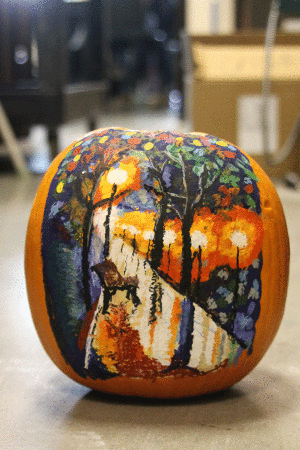 Though the project gave students a break from other projects, Willett said the actual process of painting the pumpkin turned out to be more difficult than she originally expected.
"We had to do a lot of coats because when the paint dried, it was all streaky," Willett said. "Since [the painting my group chose] wasn't that detailed, it was pretty easy though."
Overall, Henderson said the assignment was an entertaining way to celebrate the holiday, and thought she and her group succeeded in recreating their selected painting.
"I think our [pumpkin] turned out pretty nice," Henderson said. "We picked a pretty simple piece of art to recreate, but I think we replicated it really well.
The painted pumpkins will be available for viewing in the Media Center this week.
(Visited 57 times, 1 visits today)
About the Writer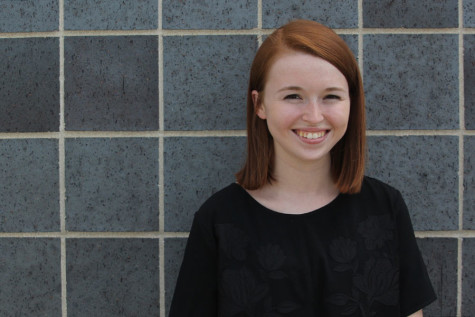 Taylor Anderson, JAG editor-in-chief
Senior Taylor Anderson is co-editor-in-chief of the JAG yearbook. This is her third year on staff. Anderson is involved in theater, and is a member of NHS and Thespians. In her spare time, she enjoys reading, binge-watching Netflix shows and drinking Diet Dr Pepper.