AP scores fail to meet national average
50 percent of both AP Chemistry and AP European History students cumulatively received above a three on their AP tests
Last year, student scores at the school for the AP European History and AP Chemistry exams dropped significantly. The 2015-2016 school year was the first year AP European History was taught at Mill Valley, and AP exam scores were low across the nation.
Conversely, AP Chemistry exam scores were consistently low throughout the school compared to past years. As a result, both teachers have said they plan to improve and alter preparation curriculum for the exams.
According to College Board, AP scores range from one to five and are derived from tests to determine a student's comprehension of the subject. This ultimately determines whether college credit for the course will be permitted. For example, a five on the test suggests the student is extremely well qualified, a four means well qualified, a three qualified, a two possibly qualified and a one suggests no recommendation for college credit.
According to College Board's AP Exam Score Distributions, in 2015, 62.3 percent of students who took the AP European History exam received a three or higher on the test nationwide. In comparison, in 2016, only 52.6 percent of those who took the exam received a three or higher. Out of the 40 students at Mill Valley who took the test, 50 percent received a three or higher.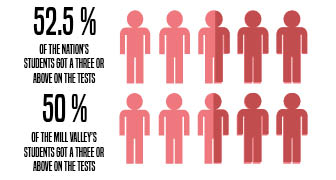 The format of the AP European test was redesigned last year, and according to College Board, "adjustments to the language of historical thinking skills" were made.
Social Studies teacher Chris McAfee said the recent low scores can be partially credited to the format change of the exam.
"[The format] was brand new and I don't think a lot of people understood, myself included, everything," McAfee said. "I think it was supposed to be a change to teach students how to analyze better and to think more like a historian instead of just memorizing facts."
However, senior Emma Wilhoit said that the decline of exam scores will not have a large effect on her preparation for the test.
"I don't find it terribly daunting when I think about taking the test because I think that [McAfee] will learn how to improve curriculum for this year," Wilhoit said.
McAfee said that the class would incorporate "more discussion and a lot more writing" in order to attempt to improve class exam scores.
Similarly, for AP Chemistry, science teacher Mary Beth Mattingly said the average AP score for a single test for the school did not reach above a three in 2016, which is noticeably lower than past years.
Mattingly said that she was disappointed in the scores, and plans to change curriculum in hopes of raising them.
"We had a rough year last year, some of the lowest scores I've seen," Mattingly said. "I'm really trying to improve my end of it this year, with giving even more problems, more complicated problems and making sure they have … more homework."
According to senior Meg Green, Mattingly should alter her preparation curriculum to reflect the curricula of other AP classes, such as AP Calculus.
"One thing that she could do … About six weeks before the [AP Calculus test] we started taking practice quizzes in the format of the AP test and we had an entire test that was in the format of the AP test," Green said.
Although difficult, Wilhoit believes the knowledge she receives from taking AP classes is ultimately beneficial for future endeavors.
"I feel like it's almost a higher quality of education just because you do get more information to pertain to the subject, which allows you to make more connections and have a deeper understanding of the subject," Wilhoit said. "Just being in a more rigorous course gives you some valuable experience for … college."
(Visited 33 times, 1 visits today)