Andy's Frozen Custard to open a Shawnee location
Along with Raising Cane's, the business is set to open by the end of 2017
The sound of construction can be heard along Shawnee Mission Parkway as businesses decide to invest in a Shawnee development. On one corner, a Raising Cane's rises to bring betterment to Shawnee. Another is Andy's Frozen Custard, built over what was formerly Texas Tom's, a frozen custard shop with a retro design, drive-thru and patio. While a date has yet to be released, the business plan to open by the end of the year.
The company started in 1986 in Osage Beach, Missouri. Since then, 59 stores across 10 states have opened. Shawnee is the latest.
According to Andy's northern region marketing specialist Kylie Wright, Shawnee was an ideal location for the store because of its traffic.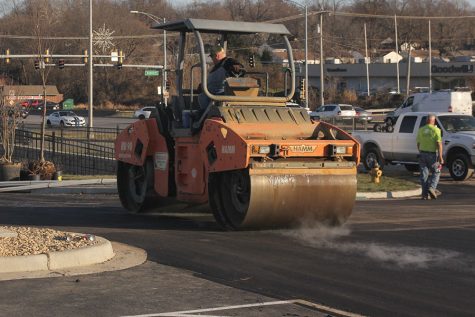 "Shawnee Mission Parkway is one of the busiest streets in the KC metro area and redevelopment continues to occur along that corridor," Wright said via email. "We were excited to be a part of several new projects."
In addition, Andy's founder Carol Kuntz believes part of the appeal to the community will be the store's flexible hours and wide variety of options.
"Andy's is a great place to spend time with friends and family," Kuntz said via email. "We are open later on weekends and during the summer  to accommodate our guests."
Sophomore Lanie Whitehill, a self-described Andy's enthusiast, believes Andy's will bring a sense of community as she can share her favorite ice cream place.
"I'm excited Andy's is coming to Shawnee because it's my favorite ice cream place," Whitehill said. "We will benefit from Andy's because it's a another option to go to."
The feeling of appreciation is mutual for Kuntz as she appreciates the opportunity to open a location in Shawnee.
"We have always liked Shawnee because it is a great community," Kuntz said. "We were very fortunate to find a location that allows us to bring Andy's to this area."
(Visited 307 times, 1 visits today)