An opinion on respecting opinions
People need to learn that sharing opinions doesn't mean proving everyone else wrong
Last year during a class discussion concerning abortion, I realized just how much I'm bothered by people who refuse to consider the opinions of others. Personally, I think abortion is wrong, but that's not what this article is about. It's about the girl with the opposite viewpoint who sat across from me during the discussion.
Don't get me wrong, there wasn't anything wrong with her opinion. In fact, I had no problem at all with what she believed because I knew it was her outlook and not mine. What made the discussion uncomfortable was her constantly rolling her eyes and making snarky side comments every time I would share why I disagreed with abortion.
We're meant to have strong opinions and there's nothing wrong with voicing them in discussions. The problem arises when these casual discussions turn into heated arguments. Why do these arguments occur? Why can't we talk about what we believe without being scoffed at or treated in a condescending manner?
People need to realize that they aren't always right. Writing this, I realize how it would seem ironic for me to say that in an opinion article. My point, however, is that we need to learn to respect each other's ideas. I've begun to feel like many people think they need to prove everyone else wrong. While it's OK to try to persuade someone to see it your way, we also need to take into consideration the ideas of others. Say what you feel, but let others do the same. Listen to them with an open mind. Don't be too determined to change their mind because it probably won't work. I didn't think abortion was right and the girl who sat across from me disagreed. She tried to prove me wrong by treating my beliefs like they were wrong and I still don't think abortion is right. When strong-minded people try to change each other's strong ideas, it isn't successful.
I've always recognized that not everyone is going to agree with me, just as I'm not always going to agree with everyone else. Our opinions are what make us unique. If everyone had the same ideas, beliefs and principles, how predictable would the world be? The problem isn't the opinion itself, but the manner in which it is delivered and thus received. People need to remember to have an open mind and realize that they can't change everyone else's.
(Visited 4,196 times, 5 visits today)
About the Contributor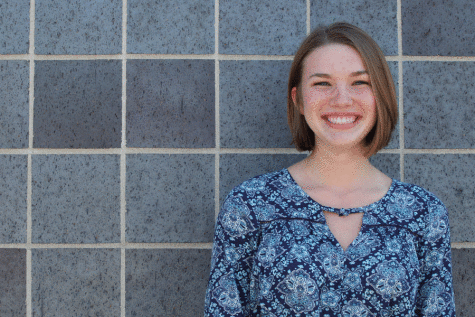 Sarah Myers, JagWire editor-in-chief
This is senior Sarah Myers' third year on staff. She is excited to be a JagWire editor-in-chief and make the paper the best it can be. While not in the journalism room, Myers can most often be found in the theater, performing in a musical or play. She is also involved in NHS, SLT and Student Ambassadors. Myers loves journalism, theater, any class of art teacher Jerry Howard's, history, life science, art, music, people and God. In her free time,...