Among Us gains popularity among students
Created by InnerSloth, the Among Us murder mystery game quickly spread nationwide
Among Us, one of the most popular murder mystery online games, recently rose to fame due to the millions of teens playing across the country. 
Among Us is a multiplayer game where five to 10 players are placed on a spaceship. Secretly, each player is assigned a role of either crewmate or imposter. Crewmates run around the ship to fulfill the tasks they're each assigned while trying to discover which one or more players are the imposters. The goal of the imposters is to sabotage the ship, as well as kill all the crewmates. 
Although many people discovered the game from well-known influencers and streamers like Ninja and 'Sodapoppin,' sophomore Asa Esparza was introduced by her friends.
When she was first introduced to Among Us she thought, "No that sounds kind of dumb, I don't think that's for me," but after playing one game Esparza immediately wanted to play another. 
As well as people discovering Among Us from friends, students like sophomore Alex Cobin first heard of the game through social media. 
"I first found it through Tik Tok. I've seen many videos of Among Us song covers," Cobin said. 
Imposters and crewmates have entirely different roles, causing many players to favor being the imposter over the crewmate. 
"I think being an imposter is more fun because there's so much you have to do. It's almost hard to balance everything out since you have to fake tasks and convince people you're a crewmate," Esparza said. 
Everyone who is chosen to be imposter has their own strategy, whether it be hiding in the vents or simply following a crewmate until they're vulnerable and alone. 
"When I'm the imposter I usually make sure there isn't somebody by the cameras," Esparza says. "Then I vent or fake tasks at that time." 
The game is a fun, interactive way to spend time with friends as well as meet new people. 
"If people are having a bad day, sometimes [Among Us] cheers them up," Esparza said. 
Teens all over the nation are playing Among Us, making it a great way to socialize and make new friends. 
"Among us is a really fun way to associate with other people you don't know," Cobin said. 
(Visited 340 times, 1 visits today)
About the Writer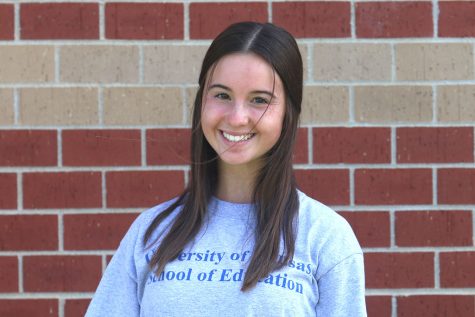 Madison Burrow, JAG reporter/photographer
This is sophomore Madison Burrow's first year on JAG yearbook staff. She will be working as a writer. Besides yearbook, she's a part of the school's tennis team and Relay for Life. Outside of school, Madison enjoys reading, playing soccer and spending time with friends and family.