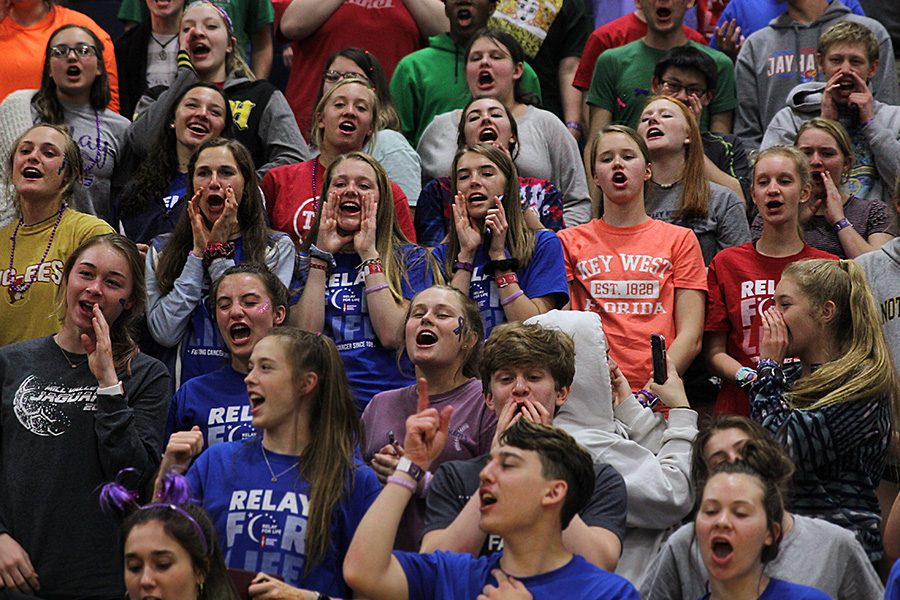 Activities
Some trips for band, choir and debate have been cancelled, Relay for Life will be rescheduled and it's unclear what action will be taken on the summer trip to Europe
March 13, 2020
After the American Cancer Society announced a cancellation of all March events due to coronavirus, Relay for Life will be rescheduled from its original Friday, March 27 date.
Sponsor Corey Wurtz also said that possible modifications to the event to avoid coronavirus concerns are possible. These include closing the event to the public and only allowing participants who raised money to attend, or cancelling the survivor walk and survivor dinner to prevent survivors from exposure to the disease.
The Science Olympiad team's trip to nationals in North Carolina has been cancelled after North Carolina Science Olympiad announced the early termination of their season. 
The state Science Olympiad competition, which was scheduled to take place at Wichita State University on Saturday, April 4, was also cancelled.
A De Soto band and choir trip to Disney World was cancelled just hours before the students planned to depart. 
While he hopes the district can ensure refunds to students like him who paid to attend the trip, senior Colton Jones thinks the school made the right call. 
"With the rumors of President Trump shutting down state borders, there was the real fear that we students were going to be halfway through the drive and be stuck somewhere else in the country," Jones said. 
Senior Thomas Babcock and junior Adam White, who last semester became the first Mill Valley students to ever qualify for the National Debate Coaches Association national tournament, were also left disappointed when the tournament was cancelled due to coronavirus fears. 
The event, which was set to be held between April 4 and April 6 at the University of Indiana, was cancelled. The decision was made after the college announced its shift to online classes and advised students to leave campus. 
One major school event is still in flux due to the coronavirus: a summer Europe trip that 45 Mill Valley seniors paid $5,000 to attend. After President Donald Trump announced a 30-day suspension on all travel to Europe except the United Kingdom, and as Italy shuts down international travel to counter the outbreak, students who paid for the trip are worried about whether or not the trip will still take place — and, if it doesn't, if they will get their money back. 
One senior set to attend, senior Abbie Morgan, described the confusion among students. 
"Everyone is kind of freaking out and trying to figure out if we can cancel our trip, or if we'll get our money back," Morgan said. "I've spent a ton of money on this trip."
According to the website for the tour company students are using, EF Educational Tours, refunds will not be given for trip cancellations due to coronavirus. Instead, the company will give students free travel vouchers — but, for senior Camryn Vitt, that isn't enough.
"
I think more authoritative figures need to take a stand."
— senior abbie morgan
"This company would be getting a quarter of a million dollars just from Mill Valley students that we wouldn't be getting back," Vitt said. "I think that's messed up. That's corrupt. Like, what are you doing? Give me my money back. It's not that complicated."
Vitt, whose grandparents provided the $5,000 for her to attend, said that the thought of having to tell her grandparents that they spent $5,000 on nothing "breaks her heart." She also added that, to her, exposing herself to the virus on the trip was irresponsible and dangerous to others.
"We're healthy teenagers that have a good immune system. We can beat [coronavirus]. If we give it to loved ones that are immunocompromised, though, then it's a very, very scary thing to do," Vitt said. "I'd rather just stay home and not risk the lives of my family members."
Morgan, who paid for the trip herself, expressed frustration about the lack of refunds. She also shared her disappointment in the response by authority figures to the pandemic. 
"I think more authoritative figures need to take a stand," Morgan said. "We need to hear more from the school. We need to hear more from the district, more from the state and more from the federal government."
(Visited 1 times, 1 visits today)