Activities and sports achieve unprecedented success
Robotics
The Robotics team set a new record when it placed 54th out of 100 teams in its division at the national competition that took place on Saturday, April 27.
This is the first time in seven years that the Robotics team has competed at nationals.
In addition to placing the highest it ever has, the team also gained over 300 points for its robot's exceptional climbing ability, which made them one of six teams to do so out of all 400 teams to attend the competition.
Senior Robotics member Megan Ring attended the competition and said that it was a good way for the team to end the season.
"[Nationals went] very, very well," Ring said. "It was also a really great experience. We didn't do as well as we had hoped to at [our first regional competition], but when we went to our second regional we did a lot better and it helped take us to nationals. Overall, the season has gone very well."
Senior Robotics member Brett Logbeck said that the competition had both good and bad aspects.
"We did pretty well for competing against robots from across the nation, including some really good teams," Logbeck said. "[Our score] was not bad. The thing that set us back was that our robot wasn't a shooter robot, [a robot that shoots into a goal as its main function], which is what [the judges] were looking for."
In addition to nationals, the team also competed in two regionals, which is the most competitions the team has ever attended.
"I think the team did excellent," Robotics sponsor Mary Beth Mattingly said. "We had a wonderful season with two regional [competitions] and nationals. We weren't picked to go on to semi-finals [in nationals] which was a big disappointment, but our robot performed very well; it climbed to the top and dropped the frisbee in the goal almost every time. It was our best season yet."
Forensics
Forensics had its best year at state, receiving 15 first-place medals and five second place medals out of 20 entries.
Sophomore Henry Hanson received a rating of one in impromptu speaking and serious solo acting. He said the results of state show the team is improving.
"We came out with many ones and twos so I think we did really well as a team," Hanson said.  "I think we're going to get even better next year."
Forensics coach Jeanette Hardesty said the amount of time the team practiced greatly impacted the outcome of state.
"I feel that this accomplishment shows how hard students practice to achieve results," Hardesty said. "I always believe that when you practice something, whether it is sports or public speaking, then you will always do better than if you don't practice. In addition, I feel that I work with some very talented young people who really put forth their best effort to get that success."
Music
All choirs sent to the state large group competition received ones, setting a new record. It was also the first time an ensemble received a perfect rating at the regionals solos and ensembles competition.
In addition to the choir, the band also had its most successful year, receiving ones in every type of competition. The band also received the most one ratings at state solos and ensembles competition than they ever have.
Blue band member senior Peter Eastwood said the new records are a big step  for the music program.
"I'm glad that my last year was so awesome," Eastwood said. "It's great to know that we're getting bigger and getting  better."
Dance
The Silver Stars dance team set a record when they were chosen to perform two routines in a showcase at the Miss Kansas competition for the first time ever. The showcase dances are voted on by the other dance teams at the competition.
Silver Stars junior captain junior Brittany Rouse said that performing in the Miss Kansas showcase was a great experience for the team.
"I was really excited because we worked so hard this year and it was really special for all the hard work to pay off," Rouse said. "The best part was knowing that more than forty other teams thought we were the best out there with our attitude and technique."
Track
Senior Emily Brigham pole vaulted a  height of 12'6", breaking the previous 12'5.50" record, at the University of Kansas Relays, on Friday, April 19. This was the first time that a Mill Valley student has broken a KU Relays record and also made Brigham the track team's first three-time KU Relays champion.
Brigham said that despite the challenges of the season, she feels she has been very successful in track.
"It was really exciting to  break [the pole vaulting record] this year because last year I came so close and it felt really good to break it," Brigham said. "The season has been rough because of the weather but everyone is dealing with it the best we can."
Quiz Bowl: members of the Quiz Bowl team won first place at the Chemistry Day at Washburn University on Saturday, April 4
Girls soccer: reached its 100th win over its eight seasons in its game against Shawnee Misson North on Monday, April 29
Boys basketball: Highest place in state ever (third)
Science Olympiad: first time since 2008 that the team has placed fifth at state
Girls basketball: most games won (22), first substate championship, first time going to state, highest place at state (second), longest winning streak (19 games in a row), first time being undefeated Kaw Valley League champions
Girls golf: first three-time state tournament qualifier (senior Hadley Tharp)
Girls bowling: first two-time state tournament qualifier (junior Cassie Widmer)
Boys bowling: first time the team has qualified for state, first state medalist (senior Nick Ridgeway, 13th place), new school record for high game (seniors LJ Hatch and Avery Laluk, 287), new school record for high series (Ridgeway, 698)
Boys swimming: first season for the team, 13 individual state qualifying times
Girls swimming: first season for the team, two individual and three relay state qualifying times
Tennis: first girls tennis player to play number one singles every year and first girls tennis player in four years to go to the state tournament (senior Sarah Wetzel)
Broadcast department/MVTV: received an All-Kansas rating, senior Brennan Mense won third place at a KAB state competition
Volleyball: had the most wins with a record of 32-8
Football: new team records set for points scored in a season, yards passed in a season, total yards in a game, number of first downs in a season, number of first downs in a game, and number of total return yards in a season
Journalism: first time that all four publications (newspaper, yearbook, broadcast and web) recieved All-State awards, won four state titles since 2003
Cross country: highest place at state for the girls team (fifth), first time two girls have placed in the top 20 at state (freshmen Ellie Wilson and Amber Akin)
(Visited 13 times, 1 visits today)
About the Writer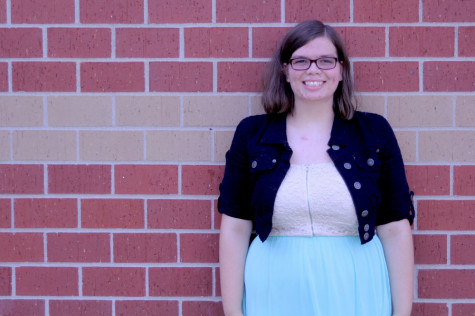 Katherine White, JagWire editor-in-chief
This is Katherine's third year on staff, and she is excited to work on the newspaper with a great staff this year. She is also involved in band, quiz bowl and literary magazine. When she is not in the journalism room or practicing an instrument, she is probably daydreaming about being in Disney World.