Academic letter ceremony moved to halftime of varsity boys basketball game
After trying to increase attendance rates at the ceremony, administration attempts new solution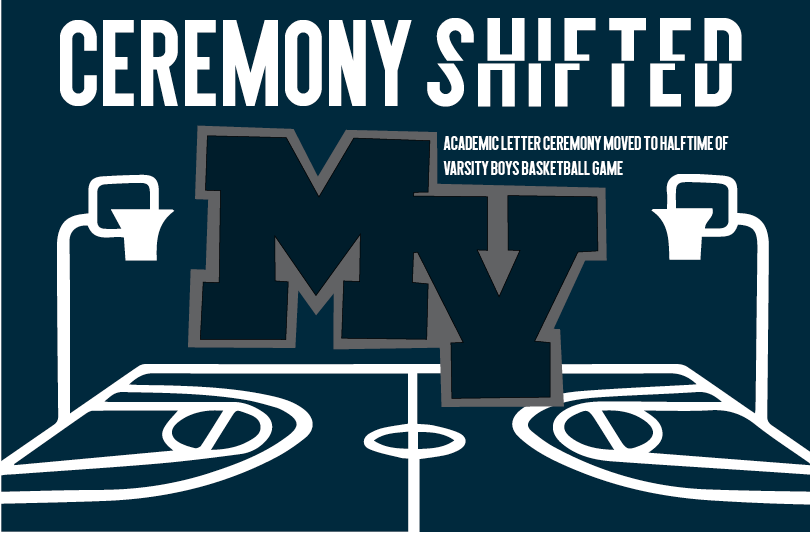 Students, whose grade point average was 3.7 or higher for two consecutive semesters, and their parents were notified on Wednesday, Nov. 1 that they had been invited to this year's academic letter ceremony. However, instead of the traditional ceremony like the ones held in previous years, the ceremony this year will be held during halftime of the first varsity boys basketball game on Friday, Dec. 1.
In past years, only about 30% of the 400 academic lettering students attended. The aim at changing the venue, according to associate principal Jerald VanRheen, was to raise these attendance rates and recognize students in front of their peers.
"I'm sure there's going to be some people that are going to want to get up and leave, but we have no way of predicting who's going to do what. I hope that they stay and I hope that they give the recognition to those students that they deserve," VanRheen said. "We talked with DeSoto high school, and they said they were doing it at a basketball game. They felt like they got pretty good results from it."
Both the students being recognized and their families will be able to watch the basketball game for free. Shortly before halftime, academic letter students will be sent to the commons in order to receive their letters and pins. They will be walked back into the gym during halftime where a few words regarding the importance of academics will be announced. Halftime will not be longer to accommodate for the ceremony, however, a cookie and punch reception will be offered to students following the awards.
Senior Ashley Ebner, who has attended the ceremony for the past three years, believes that holding the ceremony during the basketball game will be beneficial to her peers.
"I think maybe some students who haven't really cared about their grades but do care about awards [will] see all these kids who are getting awards for having a 3.7 GPA [and] might work harder to get their GPA up," Ebner said.
Despite the positive effects that could come out of this year's ceremony, Ebner does not believe holding the ceremony at a basketball game should be the final solution.
"[Holding it at a basketball game] makes it seem like less of a big deal then it was in the past," Ebner said. "I feel like [receiving an academic letter is] more of a personal achievement than something to be bragging about to everybody."
According to principal Tobie Waldeck in a letter sent out to parents, "this event is not intended to lower the value of students who perform at high levels in the classroom."
Instead of putting more emphasis on sports, holding it during the basketball game is merely a way to "give us an avenue to celebrate academic success," VanRheen said.
Overall, VanRheen claims that responses to the change have been mostly positive.
"I think that there's maybe been a phone call or two that has come in that people weren't real happy about that situation," VanRheen said. "In the end, what we're trying to do is increase attendance for something that is very important. Hopefully it works out positively and we get the results that we're looking for. If it doesn't then we'll have to go back to the drawing board and we'll figure out a different way to try to make it better next year. We'll do the best we can."
(Visited 17 times, 1 visits today)