A guide to enrollment, advanced classes and CTEC
Students and teachers discuss certain aspects of enrollment for the new school year
The start of the second semester signifies the early preparation for the upcoming school year. As students mull over course guides, meet with teachers and consult with their counselors, the big question of "what classes should I take?" is always met with a diverse set of responses.
When it came to building her sophomore schedule, freshman Sophie Hsu prioritized the courses that would benefit her in the future.
"Most of the courses that I selected for next year will benefit me in the future some way or another," Hsu said. "My electives are very art-heavy because I want to pursue a career in animation. Building my schedule with classes like Survey of Fine Crafts and AP Art and Design will make my day enjoyable but also prepare me for my possible future career."
At an enrollment follow-up meeting with junior students on Tuesday, Jan. 18, counselor Trish Chandler encouraged her audience of juniors to select the classes that would take care of graduation credits first before prioritizing electives.
"It's important to have your required classes finalized before jumping to electives because it makes the remainder of course selection way easier, "Chandler said.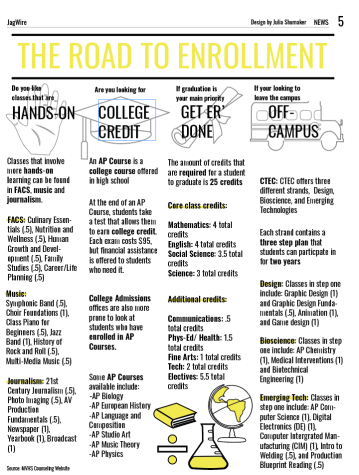 Additionally, the new addition of the Cedar Trails Exploration Center, CTEC, has provided students who plan to take a STEM-related career path with a plethora of new resources. Science teacher Neil McLeod, who teaches several classes at CTEC, believes the building to be a place where academics become more applicable.
"At CTEC, it's not like your typical classroom environment, you're much more expected to be self driven," McLeod said. "The materials, resources, equipment and contacts that you get out of CTEC you just don't have at either of the high schools normally."
Finally, while most AP courses offered give out opportunities to earn college credit through taking an AP exam, a few courses give the opportunity to earn concurrent credit through local universities such as JUCO and Baker University. Counselor Chris Wallace believes that serious thought should be given to an AP course before committing to it.
"In case [colleges] move away from test scores being counted for scholarship purposes then added emphasis needs to be put on GPA," Wallace said. "That is one of the criteria that major universities use for scholarship consideration. If the risk is related to grades, meaning taking the harder course you're more likely to get a worse grade, then there might be some benefit to try and protect your GPA a little bit and look at some later options." 
Furthermore, Wallace encourages students to take risks in choosing AP courses that they believe to be a perfect fit if the student is confident in their ability to successfully pass the class.
"If you have to spend more time working on test scores, but you're still confident in your ability to get the A then I would always lean towards taking the more challenging course," Wallace said. "The preparation that comes from taking those offerings is more advantageous than not."
Sophomore Sarah Anderson, who is currently enrolled in AP Physics I, chose to take a variety of different AP courses for her junior year in order to "challenge herself".
"Taking AP courses not only challenges me but it helps me earn college credit before actually going to college," Anderson said. "Also, I believe AP courses help improve my study habits and work ethic."
(Visited 198 times, 2 visits today)