By Hannah Chern // Illustration by Anna Owsley
A deeper look into the district's actions against vaping
USD 232 has not only taken a public stance against e-cigarettes via the JUUL lawsuit but is taking preventative action through education and punishment reform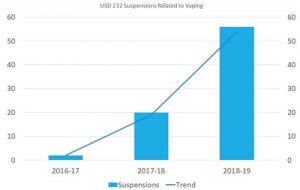 The USD 232 school district was among the first across the nation to take such public and decisive action against e-cigarettesFor the purpose of this article, 'e-cigarettes' and 'vaporizers' or 'vapes' will be used interchangeably, as will 'using an e-cigarette' and 'vaping.' See an explanation of the terms here: https://www.drugabuse.gov/publications/drugfacts/electronic-cigarettes-e-cigarettes as its lawsuit against Juul Labs, Inc. However, the district's objectives encompass far more than a settlement. With the occurrence of student suspensions related to e-cigarettes increasing, the district has made this vaping epidemic a top priority and is taking various measures to reverse the trend. 
The district is utilizing the lawsuit to draw both national and local attention to e-cigarettes' effect on students and has already begun the process of adopting and improving e-cigarette specific additions to health class curriculum. In addition, USD 232 is altering the consequences of e-cigarette use and possession on school property to be more rehabilitative. 
Assistant superintendent Alvie Cater sheds light on how each of these steps serve a unique purpose in prompting change and establishing long-term solutions.
Benefits of suing Juul Labs, Inc.
The USD 232 Board of Education identified its cause for legal action against Juul Labs, Inc. in the district's official statement, identifying the ways in which JUUL has imposed obstacles to students' education.
"The Board of Education is taking this action in response to the increasing number of students using JUUL products at school. It is clear to the administration that student discipline alone regarding this particular behavior is not addressing the problem," the statement said. "Students using vaporizers and other e-cigarettes has caused an ongoing interruption to the learning environment. This issue is resulting in the diversion of resources in an attempt to abate and prevent the problem. Vaping poses a significant risk to the health and well-being of students."
The lawsuit acts as a public show of support for families facing this problem, and its implications exceed beyond a repercussive attack against JUUL.
One noteworthy element of this action is the unique legal situation; Cater notes that "it's rare for a school district to be a plaintiff in a suit." As one of the first districts nationwide to take legal action against JUUL, USD 232 represents an unprecedented movement by the education system. As none of the ongoing lawsuits have reached verdicts, it has yet to be seen whether or not a precedent will be set.
The district's uncommon role as a plaintiff was brought upon by the far-reaching, persistent effects of e-cigarettes in the schools themselves, according to Cater.
"It came down to that school districts, unfortunately, are the institutions that are really seeing the ramifications of [e-cigarettes] on a daily basis," Cater said. "The point is that the Board of Education wants to do something to draw attention to this because we have to do more than what we're doing right now."
However, what remained unclear in the district's official statement was how a settlement would be able to effectively combat the vaping epidemic itself. It mentioned offsetting current and future costs and education programs related to abating the problem, but the statement's final word on how funds would be used was rather cryptic.
"The Board would need to take future action to direct how settlement funds, if any, would be utilized," the statement said.
According to Cater, "this is a lawsuit that's probably going to take a long time" and the district will be able to better determine how funds should be allocated by the end of lawsuit, assuming USD 232 acquires a settlement.
"The cost that we are facing now might be minimal to some people, but we know that we're going to have additional costs in the future. When you look at it in terms of damages that a school is facing as a result of e-cigarette use, it appears to be increasing over time," Cater said. "By the time that there is a settlement – if there is a settlement – we'll certainly be able to demonstrate for the Board of Education and our families where those dollars could be targeted."
Cater clarifies that while a settlement would be a positive contribution to the district's anti-vaping efforts, whether the funds go to e-cigarette education or other reforms, the primary goal of the lawsuit is to make the issue a spectacle.  
"Our Board of Education is less concerned about if this lawsuit will result in a settlement; it's more about drawing attention to this national issue," Cater said. "If there happens to be a settlement, then the Board of Education intends to earmark those dollars, whatever [the amount] might be, towards supporting students through education and cessation."
The restructuring of consequences for vape-related incidents
A driving force behind the district's decision to tackle the issue of vaping within schools has been the distraction and diversion of resources vaping-related incidents have caused, according to Cater.
"We would much rather our teachers and administrators be focused on helping students achieve at their very highest level … and anything that detracts from that is not good," Cater said. "We want to make sure that all of our energy and effort is focused on helping students be successful, and then when you have issues like [vaping incidents], it takes away from that objective."
The current consequences students caught vaping or using an e-cigarette are in line with the alcohol and tobacco policy: three days of out of school suspension for first offenders and long term suspension for repeat offenders. However, the increasing number of student suspensions related to vaping – which have more than doubled in the past two consecutive years – demonstrate the ineffectiveness of these punishments, according to Cater.
"
The consequences that students face if they're caught with e-cigarette material on campus or caught using that material on campus is not working. Just look at the increase in the number of students who have faced consequences for this issue. We know that we have to do more.
— assistant superintendent Alvie Cater
This is why the district has decided to take a different approach; the high schools are working on an education course that will act as an semi-alternative to suspension. Cater describe how this option would be presented to a student who committed their first vape-related offense.
"You've been issued a three days out of school suspension. If you complete this education course – you're looking at maybe three to four hours depending on the program – then we will you may return to school and your out of school suspension will be shortened," Cater said.
Cater hopes these education courses can act as a supplement to health class curriculum for students who need it.
"Once a student is [faces] consequences, we would sure like to be able to do something so they can get back into school as quickly as possible," Cater said. "So that's why we're looking at these education programs on that side. You've got general education, and you've got education once a student is caught and faces the consequences." 
When it comes to repeat offenders, Cater acknowledges that both the current punishment and the short educational course for first time offenders may not be the best solution.
"If you have a student who unfortunately may be addicted and has had a repeat offense – we're talking multiple offenses for the same issue for vaping – one option we have is a long term suspension," Cater said. "But we also know that being out of school is not always the right thing, or it's not going to be helpful to the student." 
This is why the district is looking into a third, more in-depth option that has a more thorough educational aspect and addresses student needs, according to Cater.
"
It's all about trying to move the focus off the school suspension, and helping the students get into education programs and tapping into resources to help them make better choices.
— assistant superintendent Alvie Cater
"We actually have partnered with Johnson County government and other resources that if we have a student in that situation, they could go get some counseling and go through a rigorous education program," Cater said. "If they complete that, however long it takes, then they can come back to school and their long term suspension will be short."
When it comes to students with serious addiction, Cater believes the district will need to connect families with outside resources. 
"We're going to have to find a way to partner with counter resources connecting families with cessation programs for students who are addicted," Cater said. "In that case, it will perhaps just be a conduit."
E-cigarette incorporation into health curriculum 
A significant portion of the district's efforts against the vaping epidemic is dedicated to prevention. By educating students on the dangers of e-cigarettes, the district hopes to dissuade from experimenting with or continuing vaping, according to Cater.
"We're investigating some components that we could infuse into the curriculum specifically tied to vaping," Cater said. "The idea there is that if we can do more education on the front end, [that] would that deter or help a student in the future maybe choose differently and not use a vape."
Health classes are currently using a program called EVERFI, which doesn't include e-cigarette specific courses right now but is working on this addition, according to Cater.
"Inside EVERFI, they have different modules; one might be on alcohol and one might be on drugs," Cater said. "EVERFI is currently developing a module and curriculum for specifically for vaping." 
According to Cater, the district is also looking at ASPIRE, an online curriculum program through MD Anderson Cancer Center that is centered around the dangers of tobacco and nicotine, which addresses both traditional and emerging products like e-cigarettes, including JUULs.
The district is undergoing a deep search for resources that will best tackle the issue, including at the middle school level.
"We're also looking at other programs that we can do that may not be quite like EVERFI and ASPIRE that we can infuse into our health curriculum, so not only at the high school level but the middle school level," Cater said. 
However, before securing a program or curriculum, according to Cater, it must undergo an approval process to ensure a successful product is chosen.
"At the district level we'll have folks [identify] what are the available resources, and then we will do a vetting process," Cater said. "And then if it's something that shows promise, there's a whole vetting process that we can involve other people – including principals and teachers – to help us say this will be a really good resource available for kids.
(Visited 44 times, 1 visits today)
Mill Valley News intends for this area to be used to foster healthy, thought-provoking discussion. Comments are expected to adhere to our standards and to be respectful and constructive. As such, we do not permit the use of profanity, foul language, personal attacks, or the use of language that might be interpreted as libelous. Comments are reviewed and must be approved by a moderator to ensure that they meet these standards. Mill Valley News does not allow anonymous comments, and Mill Valley News requires a valid email address. The email address will not be displayed but will be used to confirm your comments.