Seven questions with senior Holly Brecunier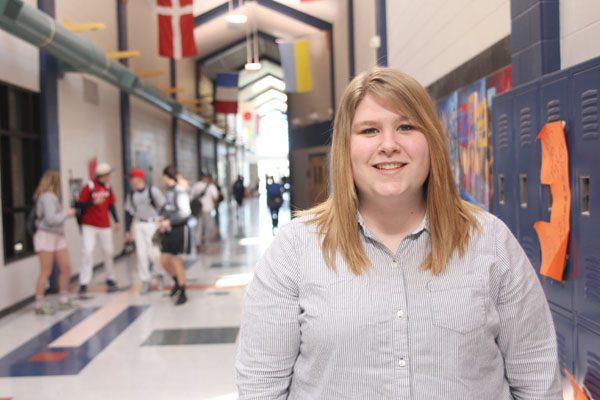 If you could go on an expedition to hunt any animal, which animal would it be?
I would never go on an expediton to hunt something. I don't do that stuff. I'm too lazy.
If you could have any profession in the world, what would it be?
I want to be a famous musician because I think it would be fun to tour and to be known by everyone. But not like Lindsay Lohan famous. She's only known for bad things, if you know what I mean.
What is your favorite school activity?
Band.
What is your favorite type of food? (Italian, Mexican, etc.)
Chinese. Crab rangoon and sesame chicken in particular.
You're in band. Do you plan to go to school for music?
Yes. I'm going to K-State and I'm majoring in Music Education.
Why do you participate in band as an after school activity?
Because I love music I've just loved it ever since I first joined it in 5th grade. Plus Ms. Steiner is awesome.
Do you like the changes to the school dances as compared to your past years at Mill Valley?
Well this is my first year as a full time student at the school, but I don't really care. I think the only formal dances should be Prom and Homecoming.
(Visited 20 times, 1 visits today)
About the Writer
Alec Santaularia, web editor
This is Alec Santaularia's second year on the staff of the JagWire. He is glad that he gets to spend his senior year with such an amazing group of people. Santaularia also participates in JagChorale, the Mill Valley Singers and the school drama productions. His favorite quote is from the famous poet, Robert Frost; "In three words I can sum up everything I've learned about life: it goes on."