The Music Man: Ezra Koenig + hipster-hop = happy Justin
Justin Curto, Mill Valley News editor-in-chief
April 21, 2015
Very few alternative band frontmen have followings up to par with that of Ezra Koenig. Not only is Koenig a Columbia University graduate, a former middle school English teacher, the lead vocalist/guitarist for Vampire Weekend and literally perfect in every sense of the word, but he also has nearly 400,000 Twitter followers and some of the best tweets this universe has ever seen. I thoroughly enjoy keeping up with Koenig's Twitter antics, a lot of which prove his place as a leading figure in hipster culture as well. And, I always fancy myself some Vampire Weekend music.
the three R's: rappers, russians and royalty

— Ezra Koenig (@arzE) May 9, 2013
You may be wondering, what exactly is Justin trying to get at here? I'll explain it to you: I have a vision that, one day (soon, actually), I will read a press release announcing an Ezra Koenig solo hipster-hop (exactly what it sounds like — hipsterized hip-hop) concept album. All signs point toward it — and I'll show you why. (Warning: what follows is solely my conjecture and has little to no actual viability. I'm just presenting it here for your amusement.)
1. Vampire Weekend has not released an album since 2013's Grammy-winning "Modern Vampires of the City," and has not announced any plans to do so. Now, I'm used to bands taking breaks of sometimes over two years between albums, but this usually comes with an announcement of sorts. No one from Vampire Weekend has said anything about returning to the studio to make music for the band, publicized plans for another album or said anything about a future single. So, this gives Koenig ample time to begin a solo career.
2. Vampire Weekend bassist Chris Baio announced he will release a debut solo album this summer, under the moniker Baio. With Baio preparing for his album release and inevitably embarking on a tour to promote it afterward, Vampire Weekend probably won't be able to record anything for a good 6 months, at least. Perhaps this is foreshadowing a hiatus, on which Koenig can begin his solo careers as well.
3. Koenig has been tweeting the best comments from his sarcastically-named Twitter handle, @arzE, as of late. Tweets from the last few days range from the philosophical ("In 2015, all the Betties think they're Veronicas…and there are no Archies, only Jugheads") to the humorous ("it's v tempting to do a "live drive" but u don't wanna be the first death on Periscope") to the teenage angst-filled ("I guess this is growing up"), and literally everything in between. Just imagine how well these quippy one-liners would fit in front of a quirky electronic beat, being spoken/rapped/sung by Ezra's perfect and innocent voice.
In 2015, all the Betties think they're Veronicas…and there are no Archies, only Jugheads

— Ezra Koenig (@arzE) April 19, 2015
it's v tempting to do a "live drive" but u don't wanna be the first death on Periscope

— Ezra Koenig (@arzE) April 14, 2015
I guess this is growing up

— Ezra Koenig (@arzE) April 13, 2015
4. ILoveMakonnen, of "Tuesday" fame (side note — that is seriously a fantastic song and I will fight its dissenters to the grave), released a remix of his song "Down 4 so Long," featuring Koenig and Queens-based rapper Despot. Koenig delivers a half-sung, half-rapped, half-spoken (yes, he defies basic math) verse that can only be described as straight fire. In reviews of the remix, many publications rightfully named Koenig as a standout contributor. This could just be the beginning of his venturing into the world of hip-hop and reinventing the hipster-hop universe.
5. The most important reason for Koenig's inevitable hipster-hop career predates Vampire Weekend, and can be summed up in two words: L'homme Run. Koenig formed this rap group in his Columbia days, and dropped sick verses on iconic hits like "Pizza Party." (Do you not remember the catchy "P-I-Z-Z-A P-R-T-Y" hook?) This gave him beneficial experience in the rap game, and built him a top-notch reputation. Koenig was clearly planning for the future with this, as what better way can you avenge the hits of your now-defunct "serious rap" group than through blazing the trail for a new hip-hop subgenre?
If you can't tell, I'm pretty excited by the possibility of an Ezra Koenig hipster-hop album coming to a store near me. I absolutely cannot wait for the day I see a culturally-defining portrait of Koenig on an album, with a simple text overlay of "arzE: an album by Ezra Koenig." I thoroughly encourage you to stand by me in this dream, until it is completely realized.
(Visited 54 times, 1 visits today)
About the Writer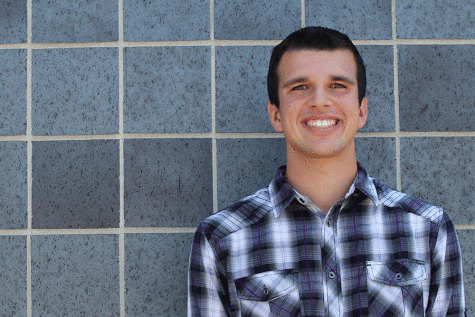 Justin Curto, Mill Valley News editor-in-chief
This is senior Justin Curto's third year working on the JagWire and Mill Valley News, this year as one of the editors-in-chief of Mill Valley News. Outside of journalism, Curto is the president of Club 121 and co-vice president of NHS, and also plans to be in the spring play for the second year. Curto enjoys going to alternative rock concerts, spending time with friends, eating pizza, reading contemporary young adult fiction, watching coming-of-age...