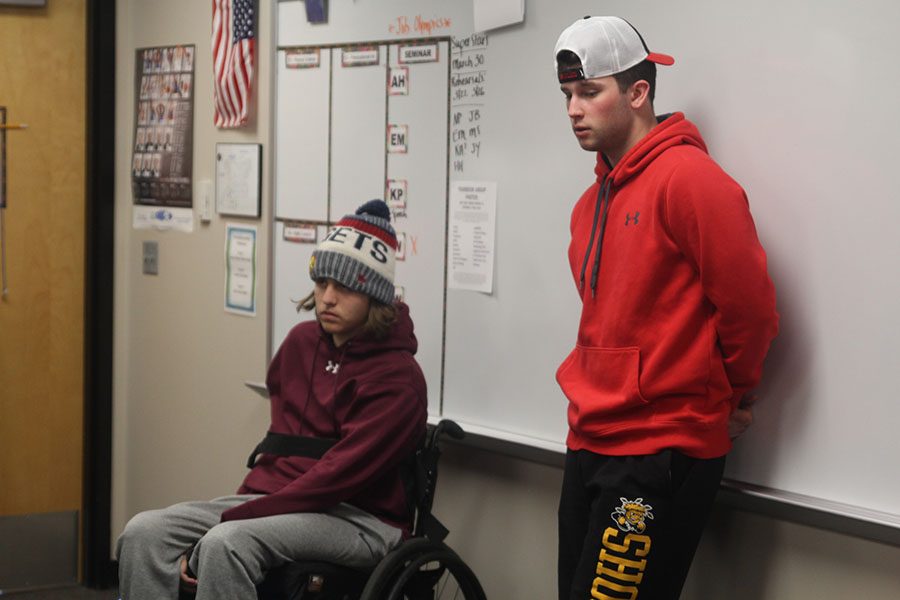 Senior Nolan Sprague speaks at Fellowship of Christian Athletes meeting
By Andrew Tow
Senior Nolan Sprague speaks at Fellowship of Christian Athletes meeting
Seniors Nolan Sprague and Quinton Hall told attendees about Sprague's recovery and the role faith played in their lives
Senior Nolan Sprague spoke at the Fellowship of Christian Athletes meeting before school on Friday, March 22. Sprague and his best friend senior Quinton Hall addressed the gathering of about thirty students and answered questions about the aftermath of Sprague's accident.
"[Life has] been different," Sprague said. "There's been a lot of adjusting for my family and I to do, but we've come together to make it through."
Before a group prayer at the end of the meeting, Hall elaborated on the impact faith had on him, especially during Sprague's recovery.
"Going to church helped us out a lot. Having a lot of people praying [for Sprague] and just going myself on Sundays and hearing the word of God helped us through," Hall said.
In addition to faith, Hall credited community support for Sprague and his family with helping them through a difficult time in their lives.
"All the help they got was really cool," Hall said. "It was cool to see Shawnee and the community all come together [to help Sprague]."
Sprague also voiced his appreciation for what his community has done to help.
"[Seeing all of the support] was amazing," Sprague said. "The community was a huge help with getting everything done. Everything we received was extremely meaningful."
Listening to Sprague speak was emotional for many of the meeting's attendees, including organizer and Mill Creek school improvement specialist Miranda Hoit. Hoit, who reached out to Sprague and asked him to speak at the FCA meeting, saw meaning in Sprague's words.
"[Sprague's story] was just a reminder for me that God is omnipresent," Hoit said.
In the end, perhaps nobody benefited more from Sprague's words than Sprague himself.
"I was a little nervous talking about [what happened] at first," Sprague said. 'However, it was nice to come in here and talk through things."
(Visited 93 times, 1 visits today)