Pole vaulting serves as bonding activity between junior Abby Phillips and new coach Todd Phillips
Track adds new pole vault coach Todd Phillips
Katya Gillig, Mill Valley News editor-in-chief
April 21, 2018
On a warm spring day, track coach Todd Phillips films his daughter junior Abby Phillips as she pushes off her pole and falls down on the other side of the pole. Although this is a familiar routine for the two, this is the first season that Todd has been her official track coach.
Todd started pole vaulting in seventh grade and continued vaulting in college at Butler University. He was inspired to pole vault after watching his father and brother.
Because he was familiar with the community, Todd believed that the job would be right for him.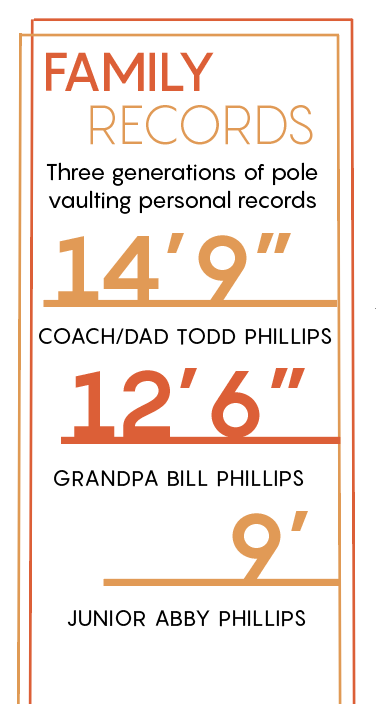 "Being in the Mill Valley community and knowing a lot of the kids  … also just my passion for pole vaulting," Todd said. "It was just like a no brainer for me to be able to come and coach at Mill Valley."
Abby  thought that the job was a natural fit for Todd.
"He loves it. It is his passion and he has always wanted to coach," Abby said. "It has been a dream of his. So I thought just that passion for it would be a really good addition to the team."
Freshman Lily Fleetwood doesn't notice any difference in the way Todd treats Abby.
"Abby's kind of sassy towards him, they joke around sometimes," Fleetwood said. "[But] he doesn't really treat her differently than all of us."
Abby believed that it was a natural progression for Todd to be her coach, as he has served in that capacity for many years.
"He really has been the one who has helped me all the way through," Abby said. "He got me started, he got me signed up for meets, he's really been my coach since seventh grade."
Although he was worried about coaching Abby, Todd has yet to have any problems.
"That's something you always worry about when you coach your own kid," Todd said. "But I think … that when we're at practice I'm her coach and when I'm at home I'm her dad. I'm always her dad but she does a good job of separating that."
Todd hopes to continue coaching after Abby graduates, wanting to create a stronger pole vault program.
"I definitely am looking forward to [continuing to coach]," Todd said. "We've got a really good group of freshman that are really coming along nicely after just a couple weeks of practice. So I see this hopefully an ongoing for many years and hopefully build the pole vaulting program at Mill Valley."
(Visited 237 times, 1 visits today)