Football coaches find new career opportunities
Offensive line coach Rick Pollard and offensive coordinator Mike Strack will continue their careers as head coaches at Piper High School and Riscon University high school in the fall football season
The success attained by two state state football championships will soon spread across two states as offensive line coach Rick Pollard and offensive coordinator Mike Strack will continue their careers as head coaches in the upcoming season.
Along with the exit of offensive coordinator TJ O'Neill after the 2016 season, this marks a loss of three football coaches in just two years.
Despite the loss of coaching staff, head coach Joel Applebee is glad to see that his coaches are looking to expand their careers, a fact that Applebee said contributes to the success of the program over the past few years.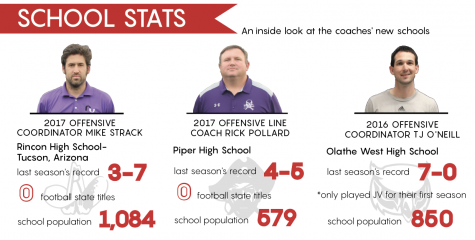 "As a head coach, you learn very quick that you want your coaches to coach," Applebee said. "These guys are going to move on and get head coaching jobs which is the reason we have had such success because they do take that ownership [as coaches]."
  O'Neill, who now works as the head coach at Olathe West High School, believes that Applebee's style of allowing his "coaches to coach" helped him get to where he is now.
  "It was a great experience for me," O'Neill said. "He is very generous in terms of giving responsibility so you really grow as a coach and learn and those sort of things. It got me where I am right now."
  This freedom the coaches have is a key point in the program according to Strack, who wants to take and apply this philosophy next year as the head coach at Rincon and University High Schools in Tucson, Arizona.
  "Applebee is probably the best high school coach I've worked for or been around," Strack said. "His most precious effect is that he lets coaches coach and demands a lot from us, but at the same time allows us to do a lot with our players with input to the program. That is a trait I hope to develop as a head coach as well. I think it is part of what made him so successful."
Pollard is choosing to model his coaching program with similarities from Applebee's as he prepares to serve as the head coach at Piper High School next season.
  "[Applebee] runs a great ship here; why not model after someone who has won two state titles," Pollard said. "The bond [between us] will still be there. It's like life, people grow up, they get married, they go start a new family, but they're still part of the other family. It's a new adventure and I am looking forward to it."
(Visited 735 times, 1 visits today)