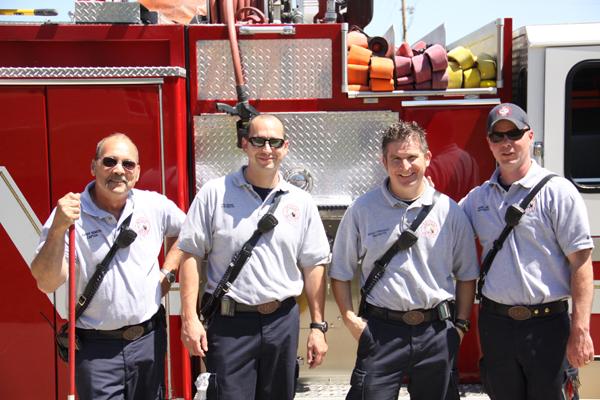 The yearly inspection for fire safety was performed by the Shawnee Fire Department on Thursday, May 10. The goal of the inspection is to ensure all fire systems are working properly and to begin working on the new system to assure the exiting of all students from the building more efficiently.
The inspection included checking the sprinkler system, boiler and all fire safety lights to make sure they work and testing all extinguishers.
Firefighter Brent Fernendez said the school did well today during the fire drill inspection.
"The students and staff got everyone out in two minutes," Fernendez said. "We are really happy to see most schools that have 500 students get out in two minutes, so it is impressive when a school with over a 1,000 can exit in that time."
Though the school did well today during the inspection, another goal of the fire department being here was to work on the development of a new system to ensure students exit more effectively. Fernendez said because the classes change frequently, the process for attendance might need to be adjusted.
"We want to figure out how we can implement an accountability check system to get everyone out, which is difficult," Fernendez said. "It is hard to check attendance and exit when it is on the computer because the computer stays in the school. So we are considering asking the school to also have a hard copy of attendance."
The school passed in every category except a few lights need to be fixed, a small issue according to Fernendez.
"The school did extremely well," Fernendez said. "Never has there been a fatality when the systems worked. So when kids go home they should check their smoke detectors and have a plan to ensure their safety at their house, too."