Wrestling team places seventh at state tournament
Sophomore Ethan Kremer won the state title in the 220-pound weight class, while the team placed seventh out of 35 teams at the state wrestling tournament at Hartman Arena on Saturday, Feb. 23.
Ben Wieland, Mill Valley News editor-in-chief
February 24, 2019
The wrestling team finished in seventh place out of 35 schools at the state championship at Hartman Arena on Friday, Feb. 22 and Saturday, Feb. 23. They ended the competition with 89 points. Sophomore Ethan Kremer brought home a state championship in the 220-pound weight class, while sophomore Brodie Scott and junior Zach Keal each placed third in the 152-pound weight class and 120-pound weight class respectively.
Five Jaguars in all placed at the state championship. Junior Austin Keal placed fourth in the 132-pound weight class, and sophomore Carson Dulitz placed sixth in the 126-pound weight class.
Kremer entered the tournament with a 39-7 record and the first seed in his bracket. He won all three of his matches on the tournament's first day, securing himself a spot in the championship match against Manhattan High's Christian Schlepp.
Ethan Kremer warms up. In about 5 minutes, he'll try to bring Mill Valley home a state championship! pic.twitter.com/gMpc2yF7fA

— Mill Valley News (@millvalleynews) February 24, 2019
In the championship, Kremer scored the first point and never looked back, winning the match 5-1 with a performance that left the arena chanting his name. After being declared the winner by the match official, Kremer walked towards cheering fans of the school and curtsied.
Ethan Kremer wins the championship 5-1! He is the Kansas 6A 220 weight class STATE CHAMPION! Congratulations Ethan!

— Mill Valley News (@millvalleynews) February 24, 2019
The state championship, in Kremer's opinion, wasn't a surprise or a miracle; rather, it was business as usual.
"I knew I could win," Kremer said. "I knew I was good enough. I just had to go out [onto the mat] and do what I do."
In sharp contrast to Kremer's matter-of-fact attitude was wrestling coach Travis Keal, who took the opportunity to celebrate Kremer's success.
"To see a kid go out there and achieve his dream, reach his goal, is amazing," Keal said. "[The feeling] is wonderful."
In last year's state tournament, Kremer finished 2-2 and didn't make it onto the podium. This year, Kremer took home a state title. Wrestling coach Travis Keal attributes Kremer's growth to his attitude not just on the mat but throughout his life.
Even Derby couldn't help but root for him! pic.twitter.com/lbqmSXMVGd

— Mill Valley News (@millvalleynews) February 24, 2019
"[Kremer] has that drive, that desire to get better, every day. It's not just in the wrestling room. I see it in school, in football, in wrestling, in weightlifting, everywhere," Keal said. "He can do anything. He expects greatness."
Kremer wasn't the team's only wrestler to achieve their personal goal. Sophomore Brodie Scott entered the tournament seeded ninth, but battled his way up to a third-place finish. The energy in Scott's third-place match was amplified by a history with his opponent Daron Island-Jones from Manhattan High: on the first day of the tournament, Island-Jones defeated Scott 5-0. For Scott, the rematch was do-or-die.
"I needed a win," Scott said. "He'd already beat me once the day before, and I needed revenge."
After three rounds, Scott and Island-Jones were tied 2-2. With only 12 seconds remaining in the fourth and final round, Scott scored a key takedown and won the match 4-2. As teammates and coaches congratulated Scott on his third-place finish, he was elated.
"[Beating Island-Jones] felt fantastic," Scott said. "I don't have words to describe it."
The state tournament concluded the wrestling team's season. For Kremer, the focus for next season is still growth.   
"[Next season], we're just going to try to keep working and improving," Kremer said. "Personally, my goal is just to get better."
(Visited 140 times, 1 visits today)
About the Writer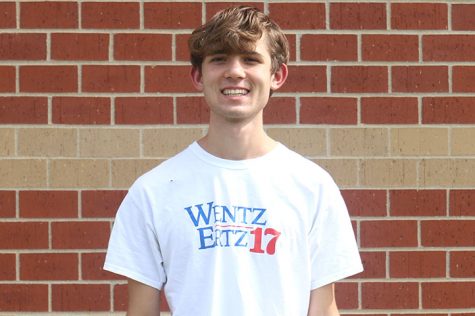 Ben Wieland, Mill Valley News editor-in-chief
This is senior Ben Wieland's third year on staff and his second year as Mill Valley News editor-in-chief. When he isn't running the website, you can find Ben at StuCo, Youth for Refugees, Young Democrats or Quiz Bowl meetings — and if he isn't there, he's probably at home watching TV.