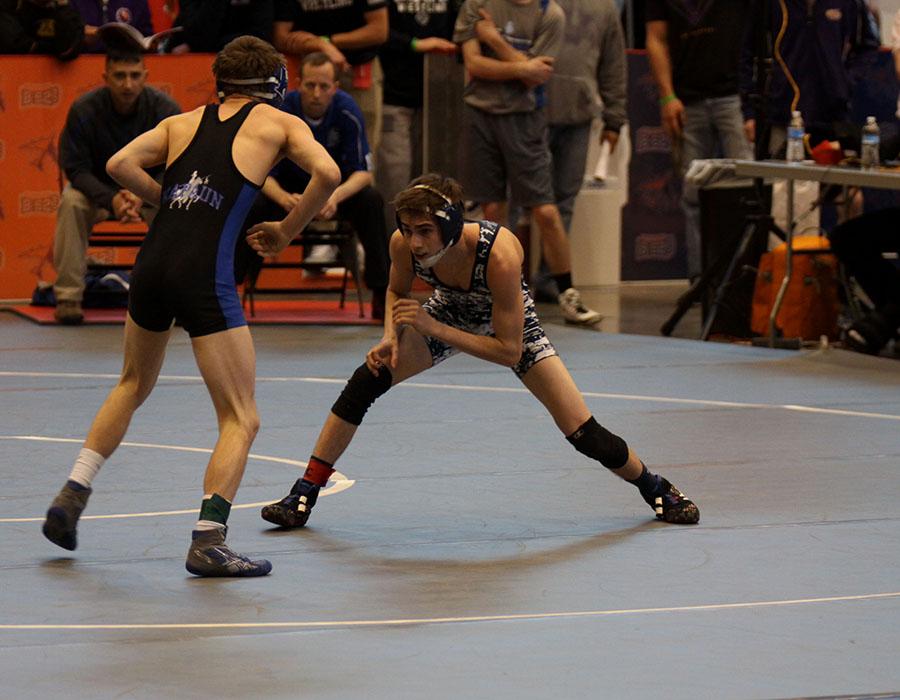 Photo by Jena Smith
The wrestling team sent 12 wrestlers to Wichita on Friday, Feb. 28 and Saturday, March 1 to compete for the state championship. The team finished sixth behind Saint James Academy, Goddard High School, Kapaun Mt. Carmel High School, Arkansas City High School and Bishop Carroll High School. Those who placed were:
Senior Landon Scott: fourth place in 106 weight class
Senior Tyler Dickman: first place in 138 weight class
Senior Jake Ellis: third place in 145 weight class
Junior Bryan Burnett: fourth place in 152 weight class
Sophomore Seth Burnett: sixth place in 160 weight class
Dickman is the second state wrestling champion besides 2009 champion Trevor Boyer in school history. Dickman felt that winning would be a memorable moment.
"It felt great to win state my senior year," Dickman said. "It will be something I never forget about."
Along with Dickman's state championship, Scott is the only four time state placer in school history. Scott feels proud of making school history.
"It's a great accomplishment for me; I worked hard those four years," Scott said. "I feel like I earned what I had worked so hard for."
Those also sent to state are as follows:
Senior CJ Beran
Senior Jake Gramke
Junior Nathan Anderson
Junior Sebastian Uriarte
Junior Logan Marx
Sophomore Ryan Anderson
After a successful year at state, Uriarte hopes for another productive season next year.
"This season was really good, we worked hard and had no bad practices," Uriarte said. "We have never placed this high in state so we hope to keep it up and work harder next year to win."