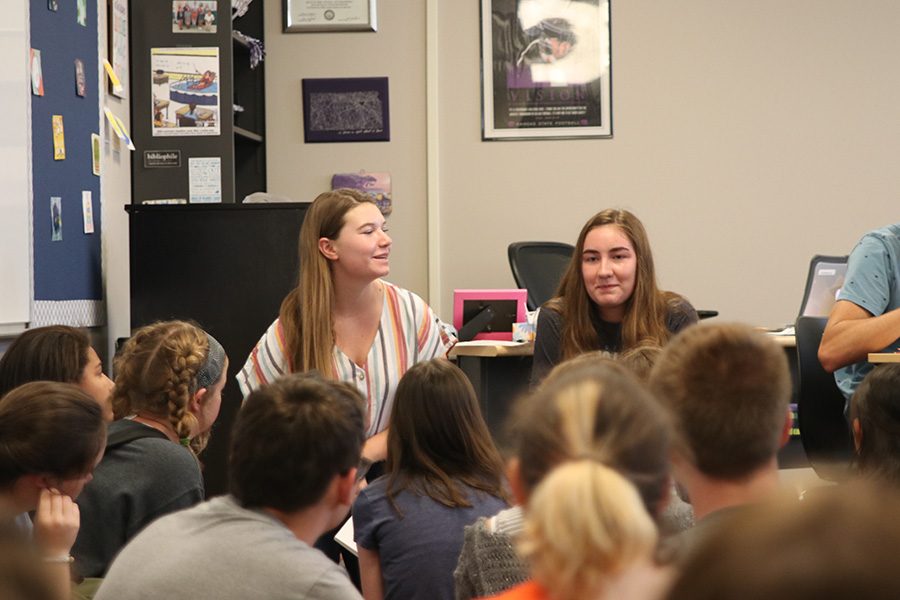 Anna Owsley
The Women's Empowerment Club hosted its inaugural meeting during seminar Thursday, Sept. 5. The club, modeled after similar clubs at nearby high schools and colleges, will provide a space for important discussions and also give back to the community through volunteering. Junior Avery Kuehl, who co-founded the club alongside junior Grace McLeod, outlined these future plans. 
"We plan on volunteering at women's shelters [like Safehome], running drives for those shelters and just doing other fun activities," Kuehl said. "[We will] also be discussing current social issues and bringing in guest speakers."
McLeod and Kuehl started the club as a place for women to come to for discussion and support, according to Kuehl. 
"We decided to start the club because we wanted a place where we could discuss gender issues and just have a safe space for women to come together and [support each other,]" Kuehl said. 
When club sponsor Sara Sedgwick was first approached by McLeod and Kuehl about sponsoring the club, she was excited for the opportunity to bring the club to her school. 
"I felt excited [when McLeod and Kuehl] came to me about starting a Women's Empowerment Club] because I know that this club exists at other schools," Sedgwick said. "I thought it was good that it's coming to Mill Valley."
Sedgwick has her own goals for the club. She is focused on both volunteering opportunities and providing an empowering and enjoyable space for discussion.
"I hope [the Women's Empowerment Club] becomes a club where people feel safe [to discuss issues] and it becomes a group that has good camaraderie," Sedgwick said. "I hope that they do some good things to help others in the community."
Kuehl sees the first meeting, which had 21 attendees (including four male members), as an encouraging first step towards the future of the club. 
"We had a great turnout at our at our first meeting," Kuehl said. "We're just excited for the future."