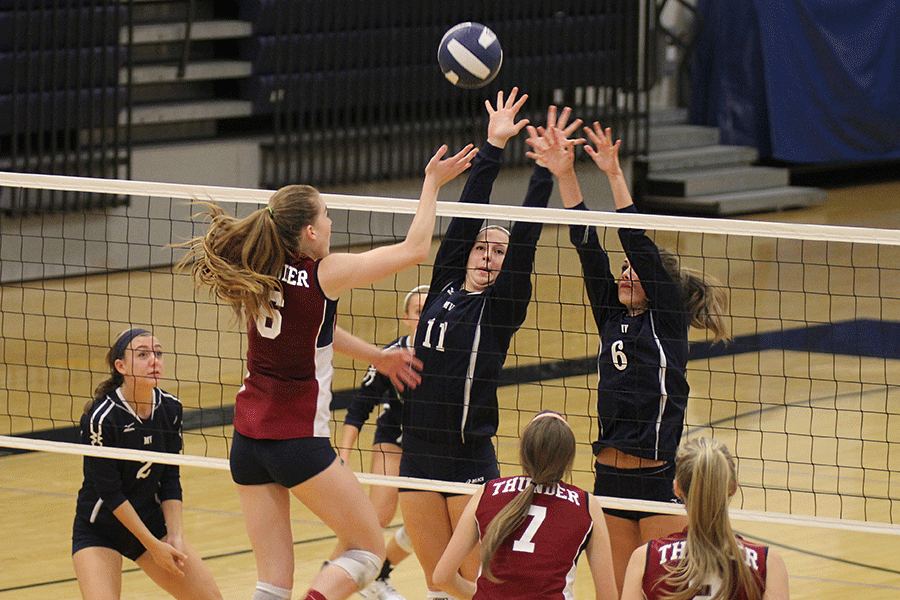 Photo by Karissa Schmidt
The volleyball team took on Blue Valley and Saint James on Thursday, Sept. 18.
The team fought hard for two close games against Blue Valley resulting in losses of 23-25 and 21-25.
Against Saint James they lost 14-25 and 7-25.
Volleyball coach Debbie Fay says the team did a good job keeping up with the experienced Blue Valley team.
"[It was] our second time playing them and we came out with a  little better understanding of what it's gonna take," Fay said. "We were much more aggressive and it payed off for us. We didn't get the win but we were right there."
Sophomore setter Morgan Thomas agreed that the team played well against Blue Valley, however she said, "the Saint James game was a bit rough."
Even though the team suffered losses against both teams, Thomas sees where the team performed well.
"We have good chemistry and when we're up we get loud," Thomas said. "That gets a lot of energy going through everyone."
With these two games behind them, Fay is still looking forward and plans on making improvements during practice throughout the season.
"I'm trying to get them to be little more fiery, show a little tenacity," Fay said. "We need to play tougher and be more aggressive and we're working on that."