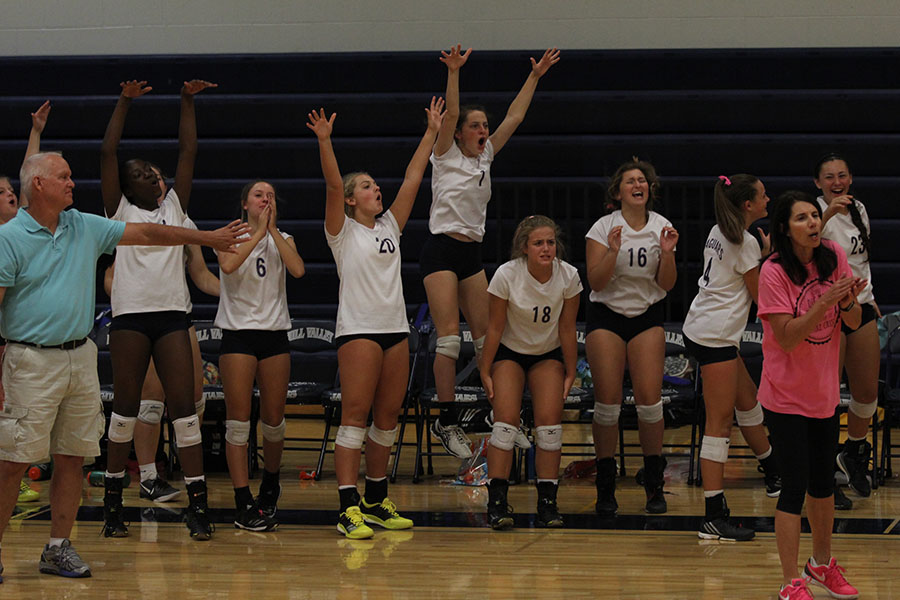 Kendall Gaignat
The volleyball team competed in its annual Dig Pink volleyball match against De Soto at home on Thursday, Sept. 21.
Dig Pink is volleyball game in which Mill Valley and De Soto come together in order to raise awareness for breast cancer. Throughout the evening people were encouraged to bid on auctioned baskets and buy raffle tickets.
Junior Adelle Warford appreciated how both schools worked cohesively to make the event successful.
"Mill Valley made shirts and De Soto helped donate baskets to auction off ," Warford said. "It was really cool that there was kind of this collaboration on both sides."
The event drew in a larger crowd which helped senior Ava Taton and her teammates keep up the level of intensity in the game.
"We had a student section that was just great," Taton said. "Energy was just flowing and that just made the atmosphere great."
Unlike in past years, both teams dedicated the event to cancer victim Michael Crist who passed away on Sept. 14 after losing his third battle with cancer. Crist was a club volleyball coach for an organization called Dynasty and was also the father of a volleyball player from De Soto. Half of the money raised at the event was donated to the Crist family.
Warford, who had the opportunity to be coached by Crist for three years, wanted to honor her former coach through her performance on the court and sensed his presence during the match.
"It was really motivational because during the game I could just feel him watching and cheering us on on both sides of the court," Warford said. "Not just De Soto, but Mill Valley too because he was close to both of us."
The team won the first set 25-20, but ended up losing the next two sets with scores of 25-16 and 25-20.
Even though the team lost the match, Taton believed the team came together for a common cause and gave their best effort on the court.
"We bonded and we knew we were all in this together no matter what the outcome was," Taton said. "We did great and played our hearts out for a good cause."