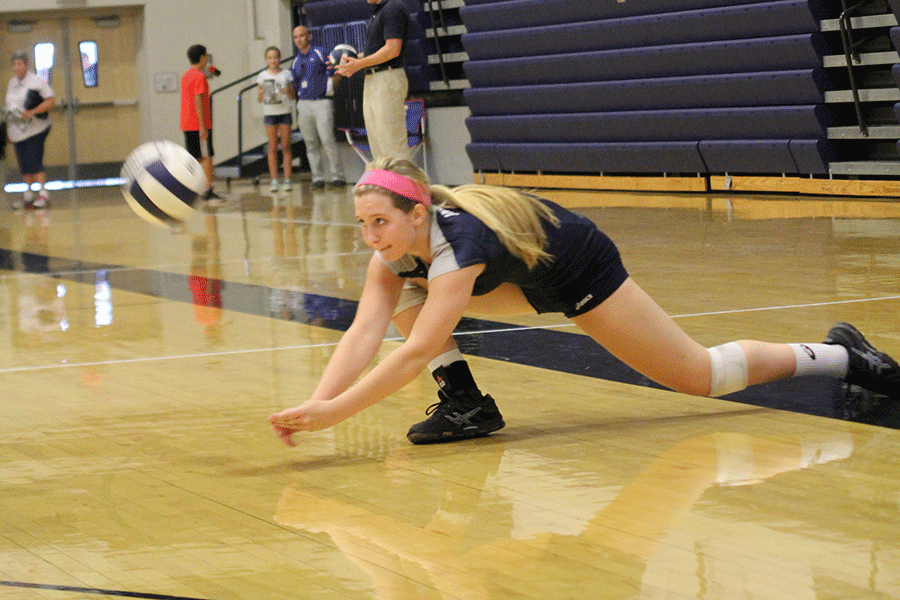 Rachel Schulte
The volleyball team defeated Leavenworth 25-11 and 25-16 in the first match of the season on Tuesday, Sept. 1, but lost to St. Thomas Aquinas 13-25 and 10-25 in the following match.
Sophomore middle hitter Izzy Hellon said winning the game against Leavenworth helped start the season on a positive note.
"During the Leavenworth game, I thought we did really well," Hellon said. "I thought we played our best, and didn't play down to [Leavenworth's] level."
Though the team fought hard during both sets against St. Thomas Aquinas, the competition proved to be challenging and the Jaguars ultimately fell short.
"I was still proud of the team because we stayed [competitive] with Aquinas, but I was also disappointed we lost," senior outside hitter Catie Kaifes said.
Hellon attributed the loss to a lack of drive from players as the match progressed.
"At the beginning of the game, I thought we played well, but we burned out towards the end," Hellon said.
Though trailing the Saints throughout the match made it difficult for the team to keep up momentum, the players made an effort to stay upbeat.
"We tried to get excited after every play and stay positive throughout the game, even if we messed up," Kaifes said.
Hellon said team members are looking forward to bettering their skills and continuing on with the rest of the season.
"I feel confident because I know that we're just going to keep going up from here," Hellon said. "We played well tonight, and we'll get even better by the end of the season."
The volleyball team will play their next match on Thursday, Sept. 3 at Blue Valley West.