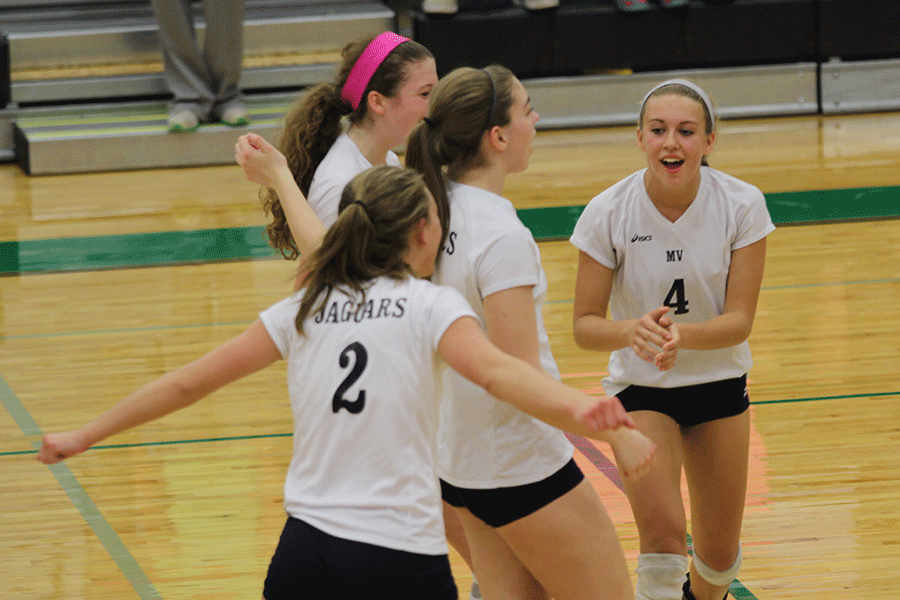 Photo by Lauren Mansfield
The volleyball team beat De Soto in the final set at the dig pink fundraiser after five grueling sets on Thursday, Oct. 9.
The Jaguars won the first two sets against De Soto 25-18 and a close 25-22.However, in the third game the Wildcats found their groove and defeated the Jaguars in both the third and fourth sets. The volleyball team lost to De Soto 22-25 and 18-25.
The last set, essentially a tie-breaker, would only go to 15 points.
The Jaguars put the points on the board first as the Wildcats trailed right behind. The Jaguars were down to the wire but pulled out a win against De Soto beating them 15-13.
Volleyball coach Debbie Fay believes this was a good example of the team's work at practice.
"We ran down broken plays very well," Fay said. "We played every ball and that's what we've been trying to do. Don't quit on the ball."
The volleyball team now has a record of 11-15 and looks forward to matches following this win.
"The excitement that we [had here] is what we want to continue with," Fay said. "Win or lose it's a lot of hard work to not be having fun."