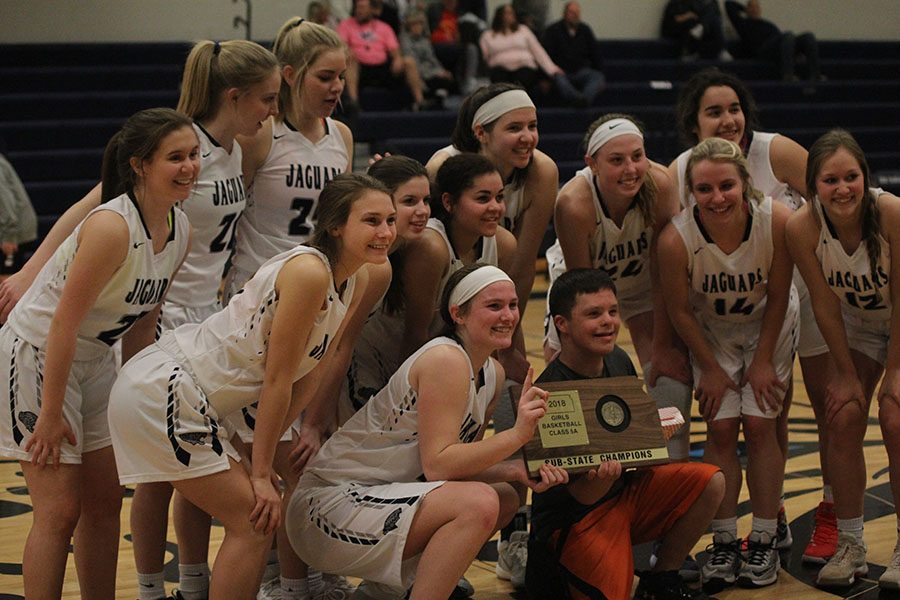 Kaitlyn Buisch
The girls basketball team defeated BVSW 51-38 at home to win the sub-state championship on Saturday, March 3.
For senior Adde Hinkle, winning the game meant a feeling of relief and an opportunity to finally play at a higher level.
"I was so relieved," Hinkle said. "It's amazing to know that we're going to state because we went to state my sophomore year but I was unable to play because of my torn ACL. It's so great to know that I have a chance to actually play at state."
Junior Trinity Knapp attributes the win to the team's strong execution on both offense and defense.
"I think the game went really well," Knapp said. "We focused a lot on defense because we know what their skills are on offense. We performed really well and everyone stepped up and made their shots on offense."
In order to prepare for the game, Hinkle says the team not only analyzed the competition, but brought an especially energized attitude to the court.
"We watched a lot of film so we knew what to expect," Hinkle said. "We came with a lot more energy and physicality. We knew since we had beat them once they were going to want to come back and beat us really bad. We had to match them and have a better intensity level to overcome that."
According to Knapp, the excitement of the team outweighed the nerves of being eliminated from the playoffs.
"There's is a lot more pressure but it's definitely a lot more fun because you know there's more at stake," Knapp said. "Since it might be your last game, you know you want to go out and play your hardest."
Entering into the state competition, Knapp feels confident the team will give their all.
"My expectation going into state is that everyone will give 100% the whole time," Knapp said. "We obviously want to win state so I know everyone is going to work their hardest."
The girls play in the state competition on Thursday, March 8 at 4:45 p.m. against Maize High School at the Kansas Expocentre in Topeka.