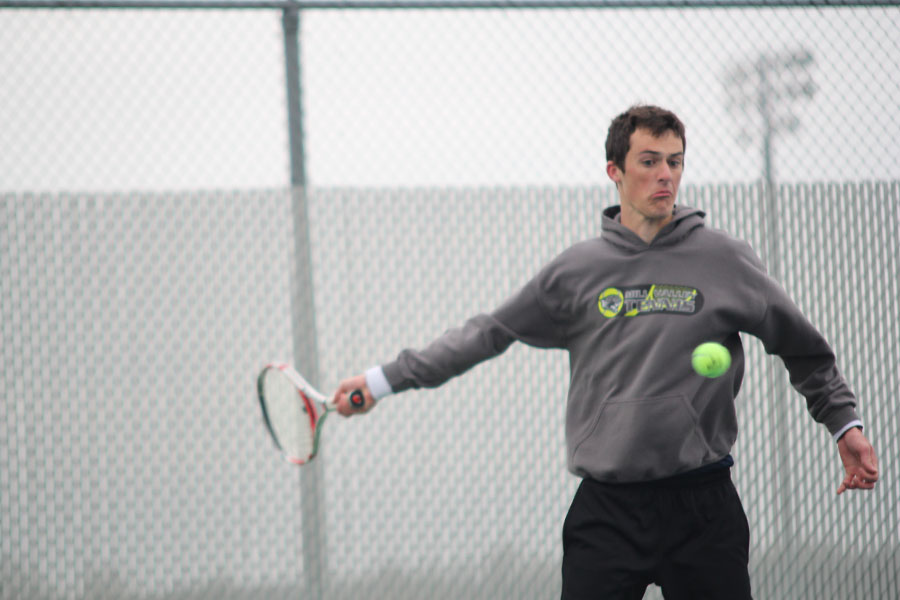 Photo by Emma Wetzel
The varsity tennis team placed sixth out of 10 schools at its first meet on Friday, April 4 at home.
"[The meet] went very well for [senior] Eric Howes," head coach Eric Ammerman said. "He got first and number one singles but I think the rest of the players would agree with me that they underachieved."
Senior Eric Howes won the number one singles pool and the singles championship.
"It felt good to win," Howes said. "It shows that my hard work does pay off, because of everything I do in the offseason."
Ammerman said the players kept a positive attitude during the meet.
"The day was very cold but the players handled that well and kept a good attitude.They could have done more on the court," Ammerman said.
Howes sees the need for the team's communication to improve.
"I think it was a solid first tournament," Howes said. "Doubles teams need to work on communication but we gave it our best shot."
Also competing were:
Senior Jack Townsend finished with 1-3 in number two singles
Senior Connor Mills and Joe Vincent finished 1-3 in number one doubles
Senior Ty Smith and junior Spencer Adams finished 0-4 in number two doubles