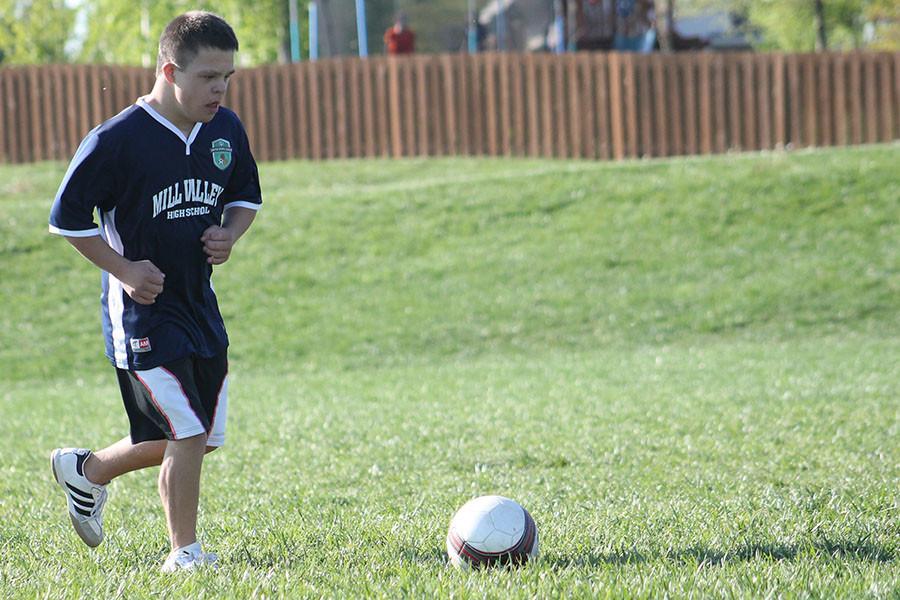 Photo by Laura Earlenbaugh
The Mill Valley Unified Soccer team, comprised of Special Olympians and high school partners, had its last practice of the season on Sunday, April 26.
The Unified Soccer team is a division of Special Olympics where middle and high school Special Olympians are paired with Mill Valley partners to play sports.
On Sunday, April 12 the team participated in a tournament at Soccer Nation in Kansas City. The team of 19 combined partners and Special Olympians which split into two teams, blue and silver based on abilities. The blue team lost both games, but they played at level three, which proved challenging. The silver team split their games.
"I think my favorite memory is our last game when there was just a competitive interaction on the field," sophomore partner Elaina Bartlow said.
In Kansas, unified sports also covers basketball and bocce ball, but currently there is only a soccer team. In previous years the team had been meant for high school participants, yet due to lack of participation, they integrated in middle school students such as team manager Cara Santaularia's son.
"Last year, I called and asked if my [seventh grade] son could play and they were like 'sure,' so he kind of became involved and he really enjoys it," Santaularia said. "This year when the person from last year did not want to be the manager anymore, they called and asked me because my son is such an eager participant. I knew my kid would like soccer so I had been wanting to do some kind of soccer anyways."
The parents and Special Olympians are not the only ones who enjoy the team; senior partner Madison Koca anticipates the weekly Sunday practices, which began late March.
"I love all of the kids on our team and I look forward to our practices and games," Koca said. "I like watching them improve their skills; we have a lot of fun together."