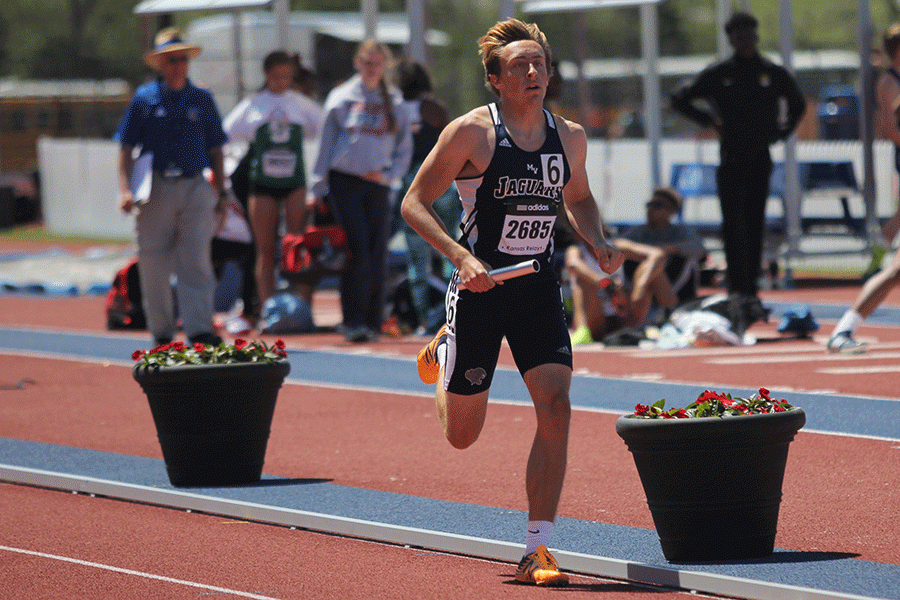 Magaret Mellott
Track and field traveled to the Rock Chalk Stadium in Lawrence on Saturday, April  23, to participate in the 89th Kansas Relays with other high schools such as Lawrence-Free State, Gardner-Edgerton and De Soto.
Junior Gabby Hopkins said her event, shot put, went well. She was enthusiastic to see other schools perform and said everything went smoothly.  
"It's exciting because KU Relays is kind of like the best of the best, so watching everyone that's pretty much the best of what they do is pretty cool," Hopkins said. "Then, competing in it is even better because you know that you're like one of the best."
Sophomore Justin Grega agrees with Hopkins that the meet went well, and also considered that the meet had a positive outcome.
"It's really different being around all those people because there's a lot of people there, so [it's] a fun experience," Grega said.
A strong suit of the track team, according to Grega, is its drive for success.
"We have some good determination," Grega said. "We all give each other confidence, help each other out. We're all hard working and hard in practice."
While Hopkins also said that a strength of the team is its hard work, she believes putting more effort into the team's training can provide more successful results in the future.
"We saw all the competition, and obviously there are teams better than us, so I think we can push ourselves harder to be better than them," Hopkins said.
Both the girls' and boys' 4×800 relay teams both placed 15th at the competition.
Those that placed individually were:
Senior Derek Meeks: 25th in 1600 meter run
Junior Megan Eckman: sixth in girls' high jump
Hopkins: third in girls' shot put
Junior Morgan Thomas: eighth in girls' high jump
Freshman Blake Eaton: 12th in boys' javelin throw