Thirteen seniors honored at signing ceremony
A signing ceremony was held in the auxiliary gym on May 2 in order to celebrate seniors who will take their athletic skills to the next level
Thirteen seniors committed to collegiate-level athletic teams during the athletic signing on Tuesday, May 3.
Senior Derek Meeks signed to run track at the University of Iowa and felt like running will always be a part of his life.
"Early on, I found that running was something that I was good at. I couldn't see myself without running," Meeks said. "I think it is something I will continue after college too."
Despite having to meet higher demands set by his college coaches, Meeks was eager to join the team.
"There are elevated expectations, but I'm not really nervous," Meeks said. "I'm more excited to meet the team and start training."
Senior Rienna Schriner signed to play softball at the University of Charleston at West Virginia, and was eager to start playing despite possible difficulties.
"I'm excited to get out of Kansas and go to West Virginia and play softball in college," Schriner said. "I think it will be challenging and very scary at first, but I think I'll be good at it."
According to Meeks, his hard work and dedication contributed to him receiving an opportunity to compete at the college level.
"I've put in a lot of hard work, especially in distance, because you can't just show up and beat everybody. You have to put in the work," Meeks said.
Schriner views playing softball in college as a way to find new people as well as gain new experiences.
"I just want to meet great people and have great friends," Schriner said. "I also want to see the United States more because, we will travel a lot. I think it's going to be exciting."
Schriner believes those who she is close to have played a part in her decision to play softball in college.
"I have met so many great people in my life. They are literally my softball family," Schriner said. "I dedicate [my signing] to them."
The following athletes signed:
Senior Kasey Conklin: Nebraska Wesleyan University, basketball
Senior Catie Kaifes: State Fair Community College, basketball
Senior Sara Hempleman: William Jewell College, cheer
Senior Amber Akin: Rockhurst University, cross country
Senior Sarah Amos: Northwest Missouri State University, dance
Senior Abigail Hughes: Kansas State University, dance
Senior Koy Holden: Lincoln University, golf
Senior Gabby Appl: Avila University, soccer
Senior Kaylee Chapman: Northeast Community College, soccer
Senior Kaitlyn Moore: Hutchison Community College, soccer
Senior Rienna Schriner: University of Charleston, softball
Senior Derek Meeks: University of Iowa, track
Senior Ellie Wilson: University of South Dakota, track
(Visited 87 times, 1 visits today)
About the Writer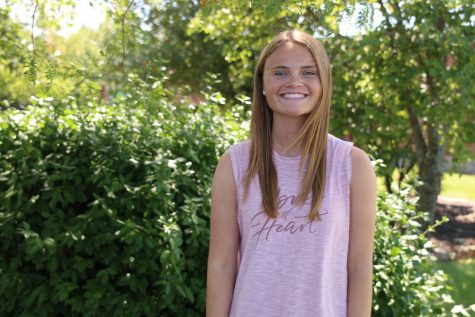 Sydney Parker, JAG copy/managing editor
This is senior Sydney Parker's third year on the JAG yearbook staff. This year she is both copy and managing editor. Sydney is also involved in ambassadors, NHS, Spanish NHS, band and softball. Her hobbies include watching old movies and spending time with her dog.