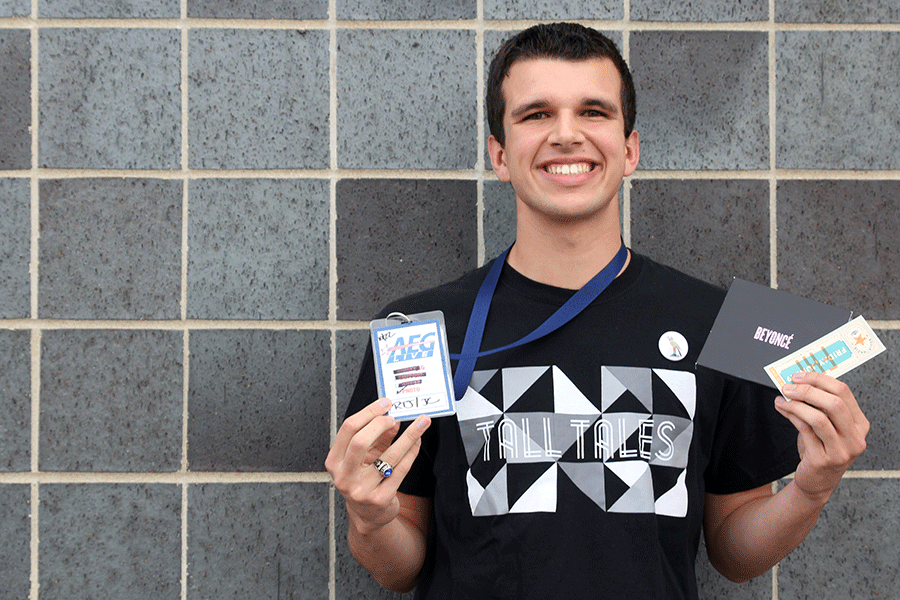 After The 1975 finished playing "She's American," a track off the band's upcoming second album, to a crowd of over 3,000 at the Arvest Bank Theatre at The Midland, lead vocalist/guitarist Matty Healy didn't say something quippy or launch into another guitar riff. Instead, he drew attention to the fact that so many people in one room rarely have a common interest, but that night, they did: music.
Because of that commonality, the night didn't feel like a concert as much as a holiday gathering for music fans — and likely a more fun holiday gathering than any I'll go to this year.
The 1975 played The Midland as part of "The Night The Buzz Stole XXXmas," the third of four holiday concerts put on by alternative radio station KRBZ 96.5 The Buzz. Silversun Pickups and Leon Bridges headlined the first two shows Wednesday, Dec. 2, and Thursday, Dec. 11, respectively, and Bastille will headline the fourth Thursday, Dec. 17. Borns, Wolf Alice and Swim Deep also played "The Night The Buzz Stole XXXmas."
I got to The Midland around 5:30 p.m., when doors were set to open, and found a line on Main Street that turned onto 13th Street, and then turned onto Baltimore Ave. Because of the line, along with the theater's slow metal detecting process, I didn't make it in until around 6:45 p.m., halfway through Swim Deep's set. What I saw of Swim Deep proved more than entertaining, though, with lead vocalist/guitarist Austin Williams spinning and screaming and the band giving a great performance of "She Changes The Weather."
Wolf Alice, a band that mixes grunge, pop and folk, took the stage next for its third Kansas City performance this year. After being more than impressed with the band's debut album, "My Love Is Cool," I had high expectations, and I wasn't let down. The band's guitar playing shined continuously throughout its set, with lead vocalist/guitarist Ellie Roswell and guitarist/vocalist Joff Oddie playing heavy riffs in "Giant Peach" and more rhythmic ones in "90 Mile Beach." Bassist/vocalist Theo Ellis especially played off the energy from the guitars, moving all around the stage as he performed.
Roswell's vocals complimented the usually heavy sound extremely well. Her screams in "You're a Germ" and "Fluffy" heightened the songs' emotions, and the more melodic aspects of her voice stood out in "Bros" and "Silk." Her use of vocal reverb effects added an interesting aspect to the set as well.
Afterward, Borns took the stage for its fourth Kansas City show of the year. Borns is a project of vocalist/guitarist Garrett Borns, and recently released its debut album, "Dopamine," in October. With a four-piece backing band, Borns contrasted Wolf Alice's previous set with dreamy, elegant and sexual electronic pop music. From when he walked out in front of an audience that he dubbed "glistening," Garrett's stage presence kept the entire theater transfixed throughout Borns' set.
Though he plays guitar, most of Garrett's talent lies in his singing — namely, his beautiful higher register and falsetto. His vocal riff at the beginning of "Past Lives" was to die for, and he meshed well with keyboardist/vocalist Lauren Salamone Perez' singing in "Dopamine." "Seeing Stars" and "Electric Love" ended Borns' set energetically, with the band adding another minute or so of wonder to the latter.
Garrett's unifying words from the end of Borns' set — "I am Borns, we are Borns, you are Borns" — rang true for the rest of the night. The audience members screamed as one when the band who most of them came to see, The 1975, finally took the stage to an amazing light show. The band became drenched in pink light and began playing "Love Me," the first single off "I Like It When You Sleep, For You Are So Beautiful Yet so Unaware of It," starting a party that would last for over an hour.
The 1975's bouncy, alternative rock thrives on Healy's energy, and the crowd at "The Night The Buzz Stole XXXmas" did as well. He played danceable guitar chords passionately and sang with his signature, jaunty vocals. When he wasn't behind his guitar, he moved around the stage and climbed on the light-up blocks the band brought. His dancing made "Love Me" and "The City" even more fun performances, but that was only a taste of what was to come.
The first true standout came during "You," which impressed between Healy's and guitarist/vocalist Adam Hann's powerful guitar playing and the awesome stage lighting. This set the stage for a transcendent performance of "HNSCC," featuring impassioned playing from touring saxophonist John Waugh. The band then launched into "Menswear," which built until the upbeat vocals and drums began.
This three-song series was one of The 1975's many amazing moments from the night. After Healy told the audience members to put away their phones for a few songs, because, "If we're going to be here, we might as well … be here now," the songs that followed — "Me" and "fallingforyou" — were nothing short of beautiful. The band and crowd alike were emotional later on during "Robbers," one of The 1975's most powerful and passionate songs.
Healy said the tour gave the band a chance to play new music for its "proper fans" before releasing its new album, and the new music The 1975 did play sounded pretty awesome. "She's American" continues in the style of "Settle Down," while "Somebody Else" and "The Sound" proved to be both fun and danceable. The band's hits were still the focal points of the set, though, and The 1975 could have found no better way to close out its encore than by leaving everything on the stage in awesome performances of "Chocolate" and "Sex."
During "Sex," the show's closer, a woman in the audience came up to me and asked why I wasn't dancing. While I was moving my head to the music, I figured it was worth it to start full-out dancing because, by that point in the night, I wasn't in a crowd of over 3,000 strangers — I was with over 3,000 members of a family brought together through music.
Senior Justin Curto is an avid music lover whose tastes range from alternative rock to dance pop. He enjoys supporting the Kansas City music scene by listening longer to 96.5 The Buzz, rocking out to local music and seeing artists live at his favorite venues in the area.