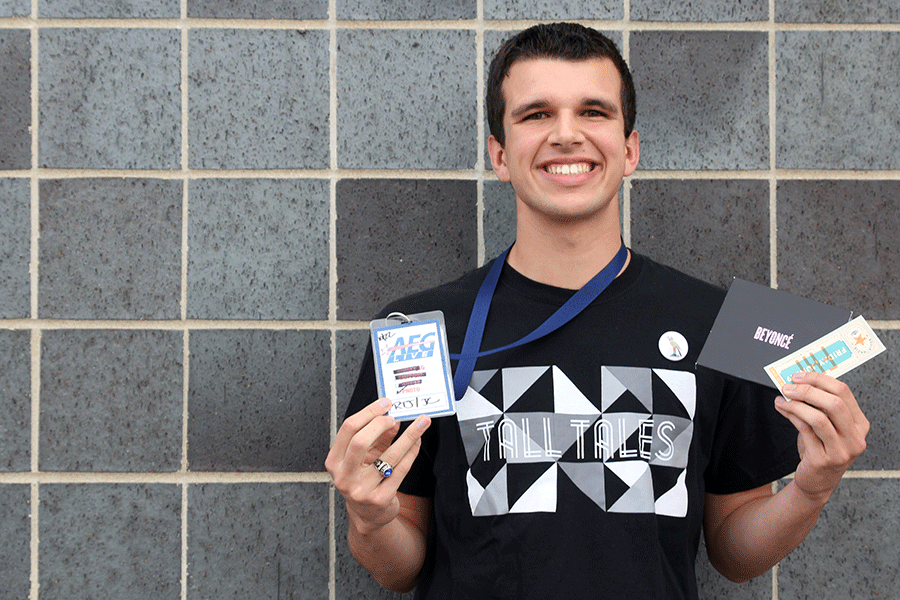 Best Coast and Wavves weren't trying to prove anything when they played the Arvest Bank Theatre at The Midland, despite it being the largest venue in the area either band has headlined. The band's sets were casual enough, with members of Best Coast using mic stands that had cupholders, and had a few mistakes, like when Wavves lead vocalist-guitarist Nathan Williams misidentified "Paranoid" as a song written for "Grand Theft Auto V."
Anything more formal would've been out of character for the two most notable lo-fi surf rock bands in music, though, and would've made for a significantly less fun concert.
Best Coast and Wavves came to Kansas City, Missouri, on Friday, Feb. 26, on the "Summer Is Forever II" tour. It's a reprise of their last co-headlining tour from January and February 2011, which passed over Kansas City and Lawrence. Funnily enough, though, they both last played the area on the same day, Sept. 20, 2015, when Best Coast headlined the now-defunct recordBar in Kansas City and Wavves headlined The Granada in Lawrence.
Cherry Glazerr opened, adding a more alternative flair to the lineup. Lead vocalist-guitarist Clementine Creevy also clarified that she had nothing to prove when she walked on stage — her first remarks were about wearing jeggings — yet, Cherry Glazerr surprised with an exciting performance. The band likely would've been playing its Wolf Alice-meets-The Dead Weather alternative rock to a small bar had it not been for this tour, but Creevy proved she can work a large venue well by dancing around the stage and joking with the crowd. Not to mention, she plays a blistering lead guitar and is backed by a strong rhythm section, making the case for Cherry Glazerr as the next up-and-comer in alt-rock. 
Best Coast and Wavves alternated closing performances for this tour, so last night, Wavves played after Cherry Glazerr. The members took the stage to the tranquil introduction to "Sail to the Sun" before launching into the energetic, raw-sounding, guitar-heavy rock Wavves is known for. For the next hour or so, that was what Wavves gave to the around 800 people in The Midland.
Guitars are the hallmark of Wavves' sound, and they were the focus of the show. From "Redlead," only the second song the band played, guitarist-vocalist Alex Gates and Williams made their cases as talented guitarists, and they did so again with solos during "Afraid of Heights." Not to mention, bassist-vocalist Stephen Pope is the most energetic bassist I've seen, with his hair near-constantly flying around. There was some feedback on the guitars, but that actually added to the band's lo-fi, garage rock-influenced sound.
Wavves was promoting its fifth album, "V," but the standout moments came from its earlier music. When Williams put down his guitar to sing "Mickey Mouse," Wavves' first proper single, he treated the audience to a discordant performance of one of the band's more alternative songs. The hits saved for the end — "King of the Beach," "Demon to Lean On" and "Green Eyes" — all sounded more energetic than the recorded versions that made them so popular. For "Green Eyes," this was especially true, as the band tacked on a frenetic guitar outro.
More than anything else, the audience clearly had fun during Wavves' set. Songs like "Idiot" and "Post Acid" elicited loud and heartfelt singalongs, and prompted a fair share of crowd surfing as well. For "Mickey Mouse," Williams threw bags of balloons and blow-up aliens into the audience, which made their way around the front of the venue for the rest of the set. And, once the band finished performing, Williams played a recording of the chorus of "I Will Always Love You" to thank the audience.
Between Best Coast and Wavves, at least 150 people seemed to leave the venue, and more continued to leave. They don't know what they missed, as Best Coast played off the energy Wavves left on the stage for an awesome headlining set.
Best Coast is only a duo, though the band performed with three touring musicians last night. Lead vocalist-guitarist Bethany Cosentino's talent lies in her singing, which showed from her soaring vocals in "California Nights" to her yells in "Summer Mood" and screams at the end of "When Will I Change." On the other hand, guitarist Bobb Bruno is one of the most underrated guitarists in music, and he proved his worth from the beginning with a crisp solo in the band's first song, "When I'm With You." Though Cosentino entertained with her singing, dancing and tambourine playing, it was almost more fun to glance over at Bruno and see him running his fingers down his fretboard or using his whammy bar to extend a note.
Unlike Wavves, some of Best Coast's performances were on songs off the duo's most recent album. "Heaven Sent," critically acclaimed as the best song off "California Nights," featured high-quality guitar work on both members' parts. The title track and "Feeling Ok" both had a transcendent feel to them, thanks to Bruno's guitar chords that sang as well as Cosentino did.
That's not to say that Best Coast's older music didn't sound good. A sped-up version of "Boyfriend" toward the end of the set stood out, especially for the energy Cosentino showed by dancing around the stage after putting down her guitar.
Lead vocalist-guitarist Bethany Cosentino noted that the last time Best Coast played Kansas City, it was in "a bar that was this big," referencing her arms outstretched in a circle. The duo played to the crowd of over 600 just as casually as if it were at a 300-capacity bar, though. Cosentino humbly thanked her mom, who came to the show, and KRBZ 96.5 The Buzz, a radio station that supports Best Coast, toward the end of the show.
The band's casualness became especially apparent during its encore, where its members returned for less than two minutes to play "Bratty B" and Cosentino never put down her drink — cementing that Best Coast (and Wavves) were just trying to have fun.