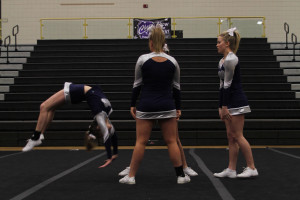 Shelby Rayburn, JAG Editor-in-chief

February 19, 2014
A bus filled with the laughs of cheerleaders as they took a three hour trip to Andover on Saturday, Feb. 15 for the Andover Central Showcase at Andover Central High School. The team brought home a one rating, the highest rating a team or individual can receive.  They also recieved outstanding awards...
Regan Jones, reporter

September 16, 2011

Filed under FEATURES
With similar style and a love for cheering, sophomore cheerleader Emily Godwin and senior cheer captain Regan Godwin are the only sisters on the cheer team. Although Regan is captain of the cheer squad Emily likes that her sister doesn't treat her differently. "She hasn't treated me any differently ...