John Lehan, JagWire reporter/photographer

February 19, 2019

Filed under OPINION, Opinion columns
Monday signifies an upcoming work week, filled with responsibility and early mornings, until the weekend finally gives sweet release. Until the weekend arrives, many people merely try to survive the week. They fall into a pattern, each day the same as the last, just waiting for a small break. While a dail...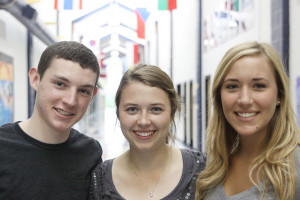 Austin Gillespie, Kristina Milewski, Hanna Torline, JagWire editors-in-chief

March 1, 2013

Filed under BLOGS, LETTERS FROM THE EDITORS, OPINION
Austin speaking: When you're producing a newspaper, structure is crucial. Turning in drafts on set deadlines, attending our bimonthly Monday worknights and following standard cycle procedures are just a few examples of things that all staff members understand are expectations. However, the journalism...