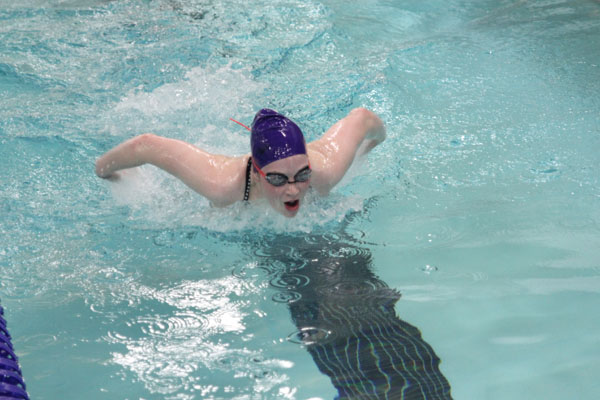 The girls swimming team beat Turner and De Soto High School at the Blue Valley West Invitational on Monday, April 8 placing fifth out of seven teams.
To prepare for the meet the swimmers made sure to get enough sleep over the weekend and listen to their coaches encouragement. The team has succeeded so far this year because they try their hardest.
"We succeed at trying our best by going out there every practice and every meet and doing the best of our ability," sophomore Michaela Dervin said.
According to Dervin, cheering helped the swimmers succeed.
"My favorite part about the meet was my 100 meter breaststroke because I had people at both ends of the pool cheering me on saying 'you can do this,'" Dervin said.
The swimmers got to meet many new people and learn each others strengths.
"The thing I like most is getting to know everybody, our abilities and creating that team unity," Dervin said.
The coaches made the meet unique by telling the swimmers to attempt different races.
"The coaches told us we need to 'broaden our horizon' and try new events," Dervin said. "When one person succeeds, we succeed as a team."
The results are:
200 Yard Medley Relay
6th place 2:29.29
freshman Sims, Jennifer
sophomore Dervin, Michaela
sophomore Brewer, Krista
freshman Meredith, Claudia
7th place 2:51.21
junior Thomas, Madison
freshman Deckard, Rebecca
senior Vannicola, Maria
freshman Badger, Shelby
200 Yard Free
5th place 2:29.88
freshman McLeod, Sherry
6th place 2:38.23
sophomore Uridge, Emma
10th place 2:48.66
freshman Lutz, Lilly
13th place x2:56.08
Dervin, Michaela
200 Yard IM
7th place 3:07.44
Brewer, Krista
8th place 3:08.16
junior Jones, Regan
9th place 3:11.24
Sims, Jennifer
10th place x3:13.50
sophomore McCabe, Mikaela
50 Yard Free
11th place 30.31
senior Miller, Molly
14th place 31.60
Vannicola, Maria
16th place 31.87
freshman Hellon, Claire
17th place x32.76
sophomore Hafer, Olivia
21st place x35.75
junior Fangman, Gabrielle
24th place x37.10
freshman Garvey, McKenna
27th place x40.41
sophomore Lee, Kiera
30th place x42.46
senior Leao, Marcela
31st place x42.69
sophomore Conteras, Hannah
32nd place x44.90
sophomore Nguyen, Amber
100 Yard Fly
6th place 1:27.75
Vannicola, Maria
7th place 1:29.06
Brewer, Krista
8th place 1:34.41
freshman Wheeler, Julia
100 Yard Free
11th place 1:10.15
freshman Meredith, Claudia
13th place 1:11.34
Uridge, Emma
15th place 1:13.63
Wheeler, Julia
16th place x1:14.33
Miller, Molly
17th place x1:14.59
Sims, Jennifer
19th place x1:15.35
Hafer, Olivia
20th place x1:15.98
McCabe, Mikaela
21st place x1:16.45
freshman Knoff, Kat
23rd place x1:16.64
Thomas, Madison
24th place x1:19.27
freshman Brinker, Natalie
28th place x1:23.31
sophomore Marney, Logan
29th place x1:23.65
senior Casper, Kristen
31st place x1:26.76
Fangman, Gabrielle
34th place x1:29.47
senior Hague, Ashley
35th place x1:29.68
Deckard, Rebecca
36th place x1:29.88
Garvey, McKenna
37th place x1:34.26
Lee, Kiera
200 Yard Free Relay
7th place 2:06.58
Lutz, Lilly
Meredith, Claudia
Vannicola, Maria
Miller, Molly
8th place 2:12.03
Thomas, Madison
Wheeler, Julia
Hellon, Claire
Jones, Regan
15th place x2:38.42
Brinker, Natalie
Garvey, Meaghan
Frehe, Amber
Casper, Kristen
100 Yard Back
4th place 1:10.63
McLeod, Sherry
6th place 1:19.54
Jones, Regan
100 Yard Breast
9th place 1:38.41
Dervin, Michaela
11th place 1:45.06
Deckard, Rebecca
12th place 1:51.31
Hellon, Claire
400 Yard Free Relay
5th place 5:04.18
Lutz, Lilly
Meredith, Claudia
Hellon, Claire
McCabe, Mikaela
7th place 5:25.00
Wheeler, Julia
Hague, Ashley
Fangman, Gabrielle
Thomas, Madison