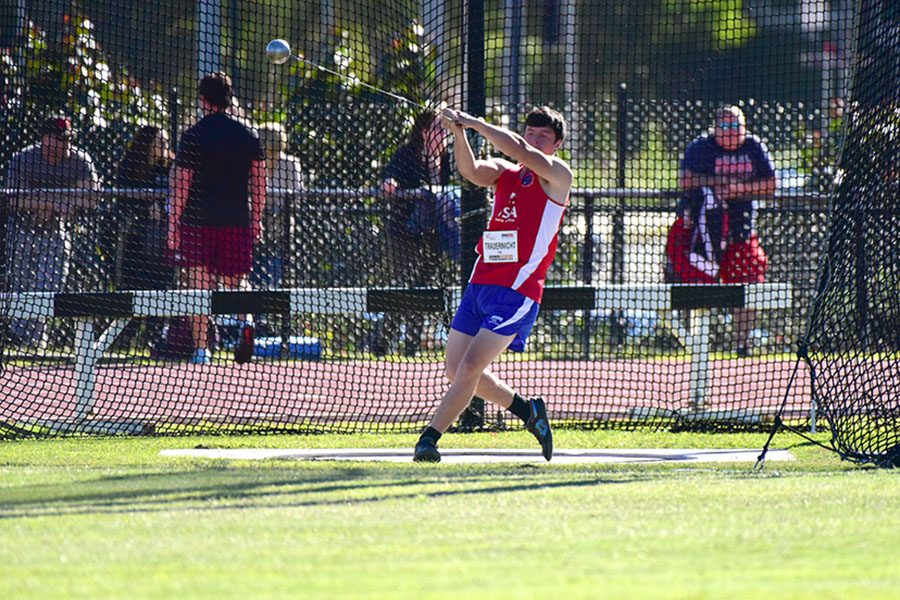 submitted by Ben Trauernicht
Ben Trauernicht
Senior Ben Trauernicht traveled to Australia to compete in the nine-day track and field Down Under Sports International Games this summer between Saturday, July 7 and Monday, July 16. The high-level competition, which has featured Olympic athletes in the past, was a success both competitively and socially for Trauernicht.
"The trip overall couldn't have been any better," Trauernicht said. "I had a great time competing against people from other countries."
Trauernicht competed in three of the four throwing events at the Games. He placed second in the U20 discus throw, third in the U20 hammer throw, and twelfth in the U20 shot put. At a star-studded event where future Olympians compete, Trauernicht's high placements demonstrate his throwing skills. His coach, Chris Dunback, thinks this international success is due to Trauernicht's tremendous work ethic.
"Ben works extremely hard," Dunback said.  "He has learned to focus not on winning, place, and podiums… but on the journey to improve."
Due to the light workout schedule and enjoyable downtime, Trauernicht loved the trip. Between competitions, Trauernicht visited kangaroo fields, a wildlife sanctuary and the Great Barrier Reef. The enjoyable trips Trauernicht took along Australia's Gold Coast and elite athletes he met were just as impactful as the competition for him.
"We did a lot more than just compete," Trauernicht said. "We had free time at the end of most days where we could do whatever we want. I mainly just hung out with my new friends I met there."
Dunback has worked with Trauernicht for the duration of his high school career. While Ben developed his throwing skills, Dunback has been guiding him along for four years. Dunback admired his decision to travel to Australia for track and field.
"[The trip was] a wonderful opportunity to explore an exciting new place and to also travel with other people who share a similar passion," said Dunback.
Trauernicht qualified to compete in the event via his success at last season's track and field state competition. A few Mill Valley athletes were offered the opportunity, but only Trauernicht accepted the trip to Australia. The journey, competition, and experience couldn't have been better for Trauernicht.
"I'm so grateful I had this opportunity and it just deepened my love for throwing even more," Trauernicht said.
Emma Fox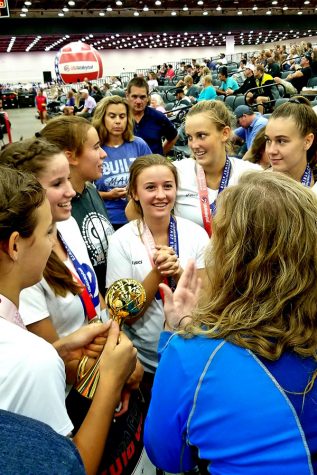 As the game was reaching an end, junior Emma Fox and her team, Asics MAVS 16-1, were determined to win the USA Volleyball Open Division at Nationals. Only a select few teams have ever had the pristine honor of winning Open Division at Nationals. The game ended with a close score and it was announced that MAVS 16-1 had won the championship.  
Every year thousands of teams start the year in the country's 16's age bracket. Thirty-six teams make it to Open Division at Nationals by winning a qualifier. Only two teams make it to the championship match, and only one wins.
"We kind of knew that if we played controlled and played like we normally do we knew that we could take this team," Fox said. "We knew if we would have came out and played like we normally do that we could have taken that team, so we … came in with a positive attitude."
This year Nationals was from Sunday, July 1 to Wednesday, July 4in Detroit, Michigan. Fox's team, had practiced multiple times a week to prepare for Nationals. Along with having several practices Emma's new coach Kelley Bugler would record every game and they would sit down after qualifiers and review what they struggled on as a team.
"Recording games is a very important tool for the girls to review their technique, timing and tendencies throughout matches," Bugler said. " It's not what we rely on most, but it's an integral piece to the entire training process. As coaches it really helps us break down what we might miss when we watch from the sideline."
The teams versed on each day depended on each volleyball teams seating. After playing very well throughout each qualifier game attended, MAVS 16-1 was seeded sixth. This lead to them to face tough competition throughout Nationals.  
"The third day was more challenging than the first two days of Nationals. We had to play a lot more challenging teams," Fox said.
Fox believes that the team had a better chance of winning Nationals this year since they placed second at the tournament last year.
"As a team we all had a more optimistic view on winning Nationals this year and thought we had a decent chance of winning," Fox said.
After winning all ten matches on the first four days of Nationals, MAVS 16-1 made it to the championship game. The game went to three sets and ended with a score of 15-9 and they ended up winning the championship game.
"To this day, [winning] still kind of feels weird," Fox said. "It's was just insane in that moment of knowing we had won. I was kind of in shock and didn't really know what to do.
After winning Nationals this past year, Fox is hopeful that her team will win again this upcoming year.
"Our whole entire team got asked back and so we're all going to be playing with eachother again," Fox said. "I think I can speak for my team when I say we are more than willing to try and make it to Nationals and win the championship once again."